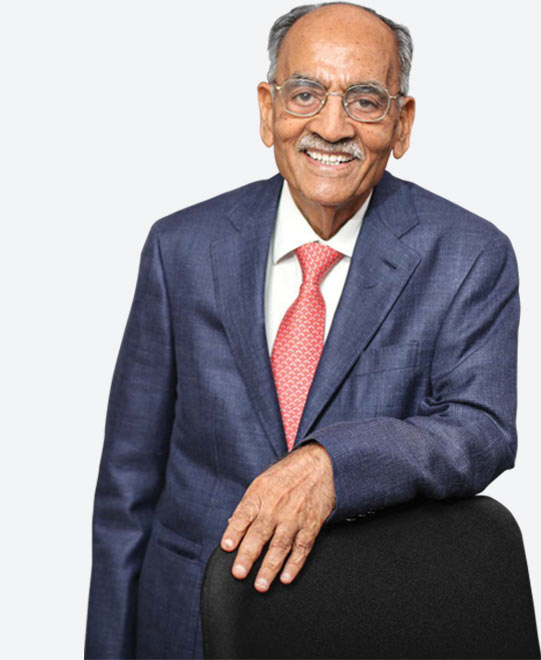 From the Chairman's Desk
S.P. Oswal
Chairman & Managing Director
At Vardhman, it is our zealous endeavor to amplify the positive impact of textile industry on the economy and work towards holistic excellence. We have embedded a mind-set of sustainable development and aim at fulfilling our role as a progressively responsible organization.
We firmly believe that our proactive engagement to protect and rejuvenate the environment is a stronger force than legislative compliances. We adhere to our ethics, values and principles while keeping ourselves at par with modern technology to stand strong in the winds of competition.
With an acute emphasis on developing a green product portfolio, we are continuously researching the scope to utilize raw material and processes that are cleaner and safer for the environment. We believe that with a collaborative approach, attaining sustainable development shall be much more plausible and have partnered with our vendors and customers to march together towards creating a better tomorrow.
Sustainability
The Modern Day Competitive Advantage
Sustainability is not just a principle of co-existence, it encompasses every domain related to development, fulfilment and prosperity of the human race as well as 'Mother Earth'. It is a benchmark of progress, a scale to validate if our actions are leading us in the right direction.
Sustainable development is practically the only true development. It is crucial for industries to identify whether or not the innovations and technological advancements being adapted are wired with sustainability.
Human race is accountable for the triumph as well as the catastrophe that occurs on our planet. Hence, it is our responsibility to ensure that success doesn't come at a huge cost to our planet. Over the years, with increasing industrialisation, issues like global warming, ground-water depletion and scarcity of resources have been reported. These can be seen as the challenges as well as the opportunities to protect the environment. It is our approach that matters.
Vardhman, as a leading textile manufacturer in India, has a firm belief in 'Ethics' and 'Values'. Since its inception, the organisation has worked towards long-term objectives with a far-sighted approach. The business strategy of the Group is rooted in a well-contemplated consistent growth plan and an approach that addresses the concerns of all three bottom lines of sustainability.
About
Company Background
An acclaimed Indian textile conglomerate, Vardhman Group is spinning yarn, weaving fabric, producing acrylic fibre, crafting garments and manufacturing special & alloy steels. For more than 50 years, the Group is delivering quality products to 75+ countries.
The foundation of the first manufacturing facility of the Group - Vardhman Spinning & General Mills Ltd (VSGML) - was laid by Lala Ratan Chand Oswal in Ludhiana, Punjab in the year 1962.
VSGML started production of cotton yarn in 1965, with an initial capacity of 6,000 spindles.
Today, Vardhman is one of the largest vertically integrated textile groups in India. It has the largest installed spinning capacity in the country with 1.1 million spindles and houses 1,550 looms. Annually, the group
Produces 2,40,000 metric tons of yarn;
Weaves 220 million metres of fabric;
Processes 180 million metres of fabric;
Manufactures 22,000 tons of acrylic fibre;
Crafts 18 million shirts;
And makes 2,00,000 tons of special & alloy steel.
Vardhman is a leading manufacturer and exporter of cotton yarn and fabric with a turnover of more than a billion dollars. The company has 18 state-of-the-art manufacturing facilities across India, with a workforce of 27,500.
Our Policy
Sustainability Policy
Vardhman believes in the power of vision and long-term action. The company has integrated sustainability at every level of business operations. Here, sustainability is not seen just as an act; it is a mindset. The Vardhman Group embarked on the path to sustainability long back with 'Vardhman's Environmental Sustainability Directions' which has evolved over the years into a robust framework.
Vardhman's sustainability framework follows a holistic, balanced and practical approach in addressing all three facets of sustainability — environmental, social and economic. The sustainability framework has been built on three pillars that the Group describes as:
PROfundity: the intellectual ability to penetrate deeply into ideas. All transformation, large or small, have their origin in excellent knowledge, keen insight or intense observation.
PRObity: the quality of having strong moral principles, honesty, decency, and fairness. Good governance, integrity and adhering to the standards of the profession in letter and spirit is embedded in the Group's culture.
PROpinquity: the state of being close to aspirations. Vardhman believes in understanding the said and unsaid needs of stakeholders. Healthy relationships are the bedrock of sustainability, as they enable various stakeholders with diverse strengths to align and collaborate.
The company aims to Provoke by setting ambitious benchmarks and raising out-of-the-box questions, which in turn inspire people to achieve and perform at their peak potential. Sustainability demands big leaps through radical thinking. To achieve these audacious goals, Vardhman Propels innovation on all three fronts—Products, Process and People. The Company Propagates successful innovation and good practices across the industry to reap the maximum. And to measure the effectiveness and efficiency of all sustainable innovations and initiatives, the Group believes in Proving by a quantum of tangible, on-ground results. The practice allows the organisation to calculate ROI and make informed decisions.
Intiatives
Sustainability Initiatives
The Group focuses on the development of communities by promoting education, creating sustainable livelihoods, improving healthcare services and providing facilities like drinking water and sanitation. The organisation also engages its vendors, customers and brands to inculcate sustainability in the framework of every business process. Some of the initiatives taken in this regard are:
# Water: Conservation and replenishment of freshwater and its sources is a priority for Vardhman. The Group undertakes technology upgrades and conservation initiatives like rainwater harvesting and wastewater recycling to draw less and replenish more. 52 rainwater harvesting systems are in place with a capacity to recharge 1.75 million kl of water annually.
Reducing freshwater consumption: Vardhman has reduced consumption of freshwater per unit of production in its spinning, weaving and fabric processing divisions. It saves 0.81 million kl of freshwater annually by using treated sewage water for flushing in plants and colonies.
Taking the waste out of wastewater: To treat wastewater and utilise it in process and non-process activities, the Group has installed 9 STPs and 3 ETPs in the precinct of its units, out of which two are zero liquid discharge units having a capacity of 8800 KLD. More than 36% of treated water is used within the process activities and at Vardhman Fabrics, Budhni the organisation is making 100% reuse of STP treated water.
Collaborations for Water Conservations and Preservation: Vardhman has collaborated with GAP and cKinetics for water security besides administering a focused project Women+Water to reduce water risk.
# Energy: Persistent efforts are laid by Vardhman to cut down on emissions, implement energy-efficient technology, invest in green energy and sharpen cost-effectiveness. Recognised and appreciated by the Ministry of Power and the Bureau of Energy Efficiency, the Group's energy conservation efforts include:
Utilisation of husk as fuel in power plant boilers to reduce coal usage;
Reuse of recovered condensate from steam consumption processes;
Hot water from steam condensate put to productive use in power plant boilers;
Reduction in heat loss by insulating surfaces;
Installation of APFC panels and harmonics mitigation system;
Replacing screw-type compressors with power-efficient centrifugal compressors;
Ongoing investments in new-age energy-efficient pumps, blowers, fans, etc;
Replacement of sodium vapour lamps with LED lights;
Installation of solar power systems with a capacity of 8.75 MW, capable of generating 170 million kWh of green power;
Installation of solar power kitchen automation equipment and solar water heaters in hostels, messes and residential colonies;
Biogas plants producing about 120kg/day of biogas, operational at two units;
Installation of Back Pressure Turbine of 1.5 MW to arrest thermal losses due to PRDS (Pressure Reducing De- Superheater System) in 45-ton boiler;
Installation of Level-III Energy Efficient Transformers for power saving;
Compressed Air Distribution System optimisation through automation;
Replacement of high-pressure compressors with lower pressure compressors for reduction in power consumption; and
Periodic energy audits for continual improvement.
# Emissions: As a responsible member of the industry, the Group has successfully identified measures to reduce emissions. Vardhman promotes afforestation, development of green belt and has also minimised carbon emissions effectively up to a million tons in the last two years. Over 2.80 lakh trees have been planted by the Group. Vardhman Fabrics, Budhni has won the Best Achiever Award in PAT Cycle 1 for its energy conservation practices. The unit achieved 29% savings in total energy consumption against a notified target of 5.77%. For this exemplary performance, Vardhman Fabrics has been selected as the model factory in India to develop Energy Conservation Guidelines for the Indian textiles industry as per the MoU signed between the Government of India and the Government of Japan.
# Chemicals: The Group has identified and eliminated potentially harmful and banned chemicals from the manufacturing process through CHEM-IQSM and is registered on the ZDHC InCheck & Gateway besides Clean by Design and CleanChain. The Group eliminates pervasive chemicals across all stages of operations and has an exhaustive Restricted Substances List (RSL), which meets almost all the requirements of customers' RSL. It is mandatory for every vendor to conform to the Vardhman RSL.
# Waste: While using less to produce more is worthwhile, responsible disposal of the leftovers is equally crucial. The Group has extensively worked to reduce and reuse the waste besides disposing of it only with government authorised vendors. The hazardous and biomedical waste is handed over only to the state pollution control boards' authorised Treatment, Storage and Disposal Facility (TSDF). Besides that, effective steps have been taken to minimise the use of plastic in packaging and re-using the HDPE sheets.