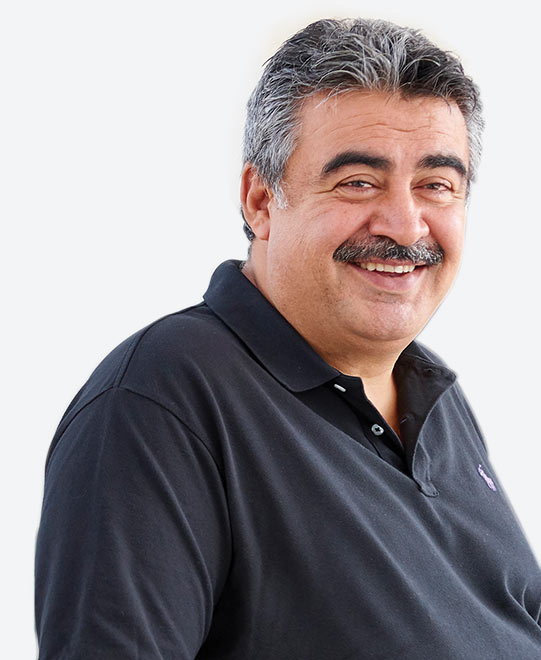 From the CEO's Desk
Fatih Konukoglu
Chief Executive Officer
When it comes to responsibility, we believe there is no such thing as a finish line and, to this end, we are always striving for new ways to improve and develop. As leaders of this industry, we feel it is our responsibility to be an active example, working hard to create a better future.
Everything we do at ISKO is driven and inspired by our Responsible Innovation™ vision, a holistic strategy stemming from the values of creativity, competence and citizenship. This allows us to take into account every single step of the production chain and to develop advanced fabrics that perform exceptionally, last longer and use fewer resources.
Our R-TWO™ program is testament to this mission, as it uses a mix of reused certified cotton and recycled certified polyester, allowing waste reduction and tackling over-sourcing. It also reduces our impact on the planet's natural resources, resulting in a high-quality, durable denim.
We pledge to be as transparent and accountable as possible, committed to raising awareness and standards of environmental and business ethics. At ISKO, we always keep in mind that being responsible is an on-going process. There is always room for improvement. We are eager to demonstrate our progress with facts and third party certifications.
About
Company Background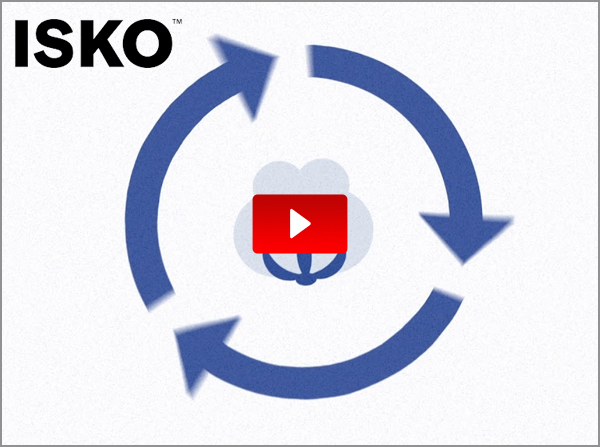 Striving for a better tomorrow is an attitude that permeates ISKO's products and operations as well as its people. ISKO's employees work together to make small, incremental changes to improve production techniques according to Kaizen principles.
Driven by a mindful approach stemming from the values of creativity, competence and citizenship, the company is a full-power denim force from the ground up which constantly brings state-of-the-art textile concepts to market, creating exciting possibilities at the cutting edge of fashion for customers worldwide. For every stage of production, from spinning to finishing, the mill works hard to deliver flawless quality, unbeatable value and competitive difference for the entire denim industry.
ISKO's strategy is further shaped by exclusive think-tanks dedicated to service innovation:
ISKO™'s R&D, which develops new responsible concepts with a Product Development Unit of Specialists, a Technology Development Unit of physics, chemistry, biology, nanotechnology specialists, and an advanced testing laboratory;
ISKOteca™, a specialist resource for treatments, washings, finishings and a complete denim library housing over 25,000 different denims (and their "recipes");
Creative Room™, which focuses on design and research, supporting brands as well as designers looking for new inspiration.
Visionary Minds, an exclusive team supporting emerging brands willing to integrate denim in their innovative, responsible and cutting-edge collections.
Founded in 1989, the company has achieved a global presence, counting on offices in 35 countries, and a production capacity of 300 million metres of fabric per year with 2,000 high-tech automated looms in a 300,000 m2 production plant.
ISKO is part of Sanko Tekstil, the textile division of the Sanko Group. The Sanko Group is active in a wide range of sectors, from construction and energy to packaging, financial services, health care and education. Privately owned by the Konukoğlu family, the Sanko Group is one of Turkey's largest conglomerates. The Group is a major investor in renewable energy and environmental protection, including hydroelectric and wind power plants.
Policy
Sustainability Policy
Sustainability is rooted in ISKO's DNA, an essential part of the company's history, heritage and mission. With the goal to decrease the environmental impact of its denim whilst having a positive effect on people, the mill relies on its Responsible Innovation approach – a holistic vision which keeps on defining new standards for the entire industry.
This conscious strategy results in a pioneering and advanced culture that goes beyond simply using low-impact materials and processes. To grant as much transparency as possible, everything ISKO does in terms of sustainability is verified and traced from field to fabric by a third party.
All of ISKO 25,000+ fabrics are responsibly manufactured in a high-tech factory. Here, an environmental management system certified to an international standard ensures the management of environmental impacts. Under this system, energy, water, waste, chemicals and emissions are managed. Additionally, the mill follows the Roadmap to Zero Programme, applying an integrated systems approach to Sustainable Chemical Management, with input, process and output chemicals. ISKO uses the ZDHC Gateway chemical module and the Higg FEM – both of which are externally verified by chemical auditors – to report its chemical management and data.
In order to fully assess and quantify the environmental footprint of its denim fabrics, and where even better choices can be made, ISKO has worked to obtain lifecycle assessments (LCAs) of all its 25,000+ denim products, in line with ISO 14040 and ISO 14044. To ensure that LCAs are reliable and replicable, the mill created publicly available and independently verified Environmental Product Declarations (EPD). These documents communicate verified, transparent, and comparable information about the life-cycle footprint of products. ISKO's EPDs, specifically, provide a clear understanding of every single significant environmental aspect and impact of denim production through the measurement of 30 different environmental parameters, including resource (energy) use, waste production, global warming potential, land use, water scarcity, human toxicity.
The results of these industry first EPDs have been used to create the independently devised product category rules (PCR) for future denim industry EPDs, related to the assessment of the environmental performance of "woven, knitted and crocheted fabrics of naturals fibres (except silk) for apparel sector", and the declaration of this performance by an EPD, have been published and will help, for the first time ever, to have standardized assessments for denim across the industry.
Aiming at raising awareness and standards of environment and business ethics, the company is member of the Sustainable Apparel Coalition (SAC) and of SEDEX, a supply chain platform that allows brands and retailers to see how their suppliers are meeting their social and ethical responsibilities. Further to this, the company supports the Social Labor Converge Project (SLCP) contributing to the improvement of workers' labour and social conditions.
INITIATIVES
SUSTAINABILITY INITIATIVES
By pioneering Responsible Innovation in the denim sector, ISKO constantly rethinks its sourcing strategies to tackle over-sourcing—the leading issue when it comes to waste hierarchy. The mill refuses to source more raw materials than what is actually needed, thus revolutionising the environmental performance impact of yarn to fabric production.
ISKO serves as an active example for the industry, working constantly to meet the rigorous criteria of the most authoritative certifications. It is the first mill in the world to be awarded with the prestigious Nordic Swan Ecolabel and EU Ecolabel for its ISKO Earth Fit™ collection. These certifications have become very popular symbols when it comes to products that touch the skin and daily life essentials—denim being one of them. Having obtained these certifications means that wearers can feel secure knowing that what they're wearing is safe on their skin, for society and for the environment.
To be completely accountable, the company makes sure to be part of a growing network of relationships with the most credible and leading organisations and experts in the world, providing support and sharing knowledge with all players involved.
ISKO is a signatory member of the ZDHC Foundation since May 2018, highlighting its commitment to not use hazardous chemicals and harmful substances in its production processes. In March 2019, the mill joined Textile Exchange to further advance the development of increasingly sustainable ways to tackle textile production and to maintain an open dialogue with all the different stakeholders.
In December 2019 ISKO became the first Turkish denim manufacturer awarded with STeP by OEKO-TEX® modular certification system. The certification highlights improvement areas, aiming at implementing responsible production processes in the long term by assessing six different areas of production conditions. These are chemicals management, environmental performance, environmental management, social responsibility, quality management and health protection and safety at work.
As leader of the industry, ISKO believes in being an active example fostering best practices whilst sharing expertise and knowledge. To this end, the company is launching a full Sustainability Report, a complete and detailed formal document covering all of ISKO's achievements to date, along with its current policies strategies and future targets.
The company is also first in line when it comes to supporting the most prominent events worldwide and promoting educational initiatives. Among the many projects in which ISKO takes part stand out Copenhagen Fashion Summit and the Drapers Sustainable Fashion Conference.
In addition to including players that are already part of the industry, ISKO's vision also involves tomorrow's fashion leaders: fashion students and young designers at the early stage of their careers. This is made possible by ISKO I-SKOOL™, an educational and cultural project that, since its inception in 2013, has been aimed at creating connections between young talents and the denim industry. Promoted by ISKO and Creative Room, independent style research lab, the programme is now in its seventh season, confirming itself as a must-have for the entire fashion and denim world.
With environmental and social responsibility at its core, the programme is enriched by contributions from a wide range of players, such as producers, brands, business partners, artists, influencers and media, enhancing awareness for everyone involved. Participants learn how to transform their creative projects into real garments through seminars and workshops focusing on both technical and soft skills development, along with practical sessions where they can experience all the steps of denim production.