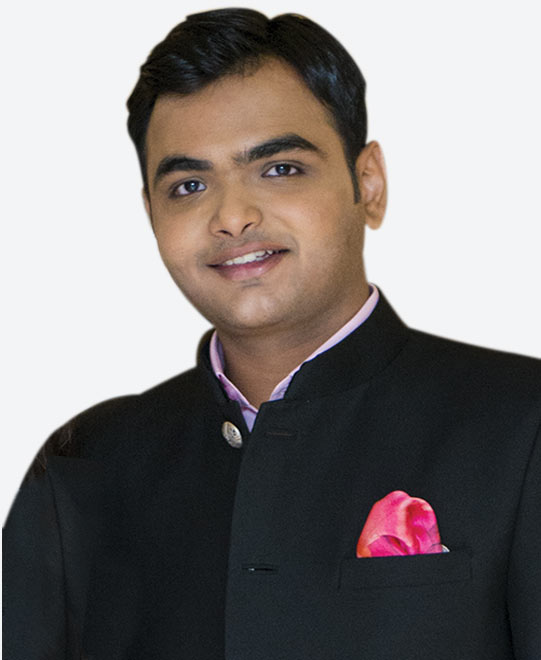 From the President's Desk
Rishabh Shah
President
Sustainability should be a practice, not a mere trend. Traditionally, businesses have always been about making the most of nature, however, it is high time that we start giving back to nature. 'Sustainability in the now', as we call it at The Ruby Mills.
As India's premier textiles mill, the responsibility towards leaving behind a sustainable environment is always put on a pedestal. We ensure that quality and sustainability go hand in hand. Right across the supply chain, each department is answerable on its sustainability initiatives. Even the smaller steps are recognised, and the right behaviour is incentivised.
We have taken an active role in promoting sustainable fibres and are developing a variety of new fabrics by working closely with the fibre manufacturers.
We look forward to collaborating with brands and designers who share our vision and concern for the planet and enable them to create sustainable products with our innovative fabric range.
About
Company Background
Ruby Mills Limited is one of the most respected composite mills in India covering an array of textile operations—spinning, weaving and processing, supported by a wide distribution network.
Ruby Mills has two state-of-the-art production facilities with the latest machinery, supported by a modern research and development laboratory, which is equipped with sophisticated quality control equipment—that puts it at par with the best in the field of textile manufacturing.
Innovation is the strength of Ruby's business. In tune with the times, the company intends to innovate together with those who drive fashion today.
The company has set up The Ruby Studio, at its headquarters in Mumbai, which is an open, interactive space where designers, exporters and trade partners get to experience its fabrics, exchange ideas and know about the latest fabric trends.
POLICY
Sustainability POLICY
Humans derive a lot from nature—not just life, but financial and economic prosperity too, which drive businesses that are directly or indirectly dependent on nature. However, excessive consumerism driven by frequent trend changes (which does drive businesses) hurts the planet. It is time we change the traditional perspectives and introduce sustainability in daily work. The precise environmental impact of textiles varies significantly depending upon the type of fibre, process, chemicals, water, energy and natural resources used.
We at Ruby Mills are committed to the shift to sustainability at all levels of our business and product strategy. We have a three-pronged approach towards sustainability which encompasses Reduction, Recycling and Responsibility.
Reduction of wastages leads to optimum utilisation of available resources and improved efficiency across functions. We have been successful in instilling Reduction as a part of our day-to-day business approach.
Recycling is about inventing new ways of putting every resource to a productive and sustainable re-use. This reduces the amount of waste into landfills and incinerators and helps conserve the ever-depleting natural resources and also prevents pollution.
Being an integral part of the community as well as the society for over a hundred years, we at Ruby understand our responsibility towards the environment, and take it as our prime responsibility to inculcate a taste for fabrics made from sustainable materials and drive awareness among consumers and brands.
"We believe that this is the right path to walk on and look forward to working with talented designers and corporations by creating fabrics that are fashionable, innovative and yet sustainable."
Initiatives
Sustainability Initiatives
At Ruby, we believe that even the smallest sustainability initiative is significant. While we have moved towards major technological steps such as Zero Liquid Discharge, we are equally proud of the worker-driven initiative of banning single use plastic at our Mill premises. Here are some of our other key initiatives.
Use of sustainable / eco-friendly fibres:
While most textile mills run cotton as their mainstay, Ruby Mills is one of the most significant consumers of man-made fibres created from regenerated natural cellulose. For decades, Ruby Mills has been among the pioneers to create fabrics using these fibres.
Our brands made from sustainable fibres, such as Busy Lizzie and Lusterous Venture to name a few, command a significant consumer loyalty and are seen as the unparalleled benchmarks in the Indian textile industry.
Development of fabrics with recycled polyester and eco-friendly regenerated cellulose is one of the key sustainability initiatives that we have embarked upon. We are closely working with fibre manufactures to create a range of sustainable fabrics and are spreading awareness of their importance in the trade through diverse modes of communication.
"As we move from virgin to recycled fibres, we have to ensure that the fabric quality remains impeccable. Being a vertically integrated mill, we have end-to-end quality control across processes, which has allowed us to achieve best-in-class fabric quality even from recycled fibres."
#Innovative dyeing technology - For a mill that owns large consumer fabric brands such as Busy Lizzie and Lusterous Venture, that have a very wide colour range, dyeing becomes a critical operation and our endeavour is to significantly reduce the resultant effluent.
Recycling, effluent treatment and improved process efficiencies initiated at our plant have led to extensive saving of resources. We, at Ruby have been able to come up with in-house process innovations that have led to a significant reduction in wastage, without compromising on quality.
#Plantations across offices and factories - While it is necessary to control emissions, it is also critical to have a green cover. All Ruby premises across locations have large open areas with a significant green coverage, cultivated by the gardening team. Following the Miyawaki technique, the preference is given to native species of trees and flowering shrubs thus leading to low-maintenance dense green areas supporting the local ecosystem.
#Ban on single-use plastic Once plastic is used, it becomes a liability as it is not bio-degradable. The worst are single-use plastics. Taking forward the Indian government's initiative to reduce plastic usage, the workers of Ruby Mills have taken a self-initiative and banned the use of single-use plastic in its premises.