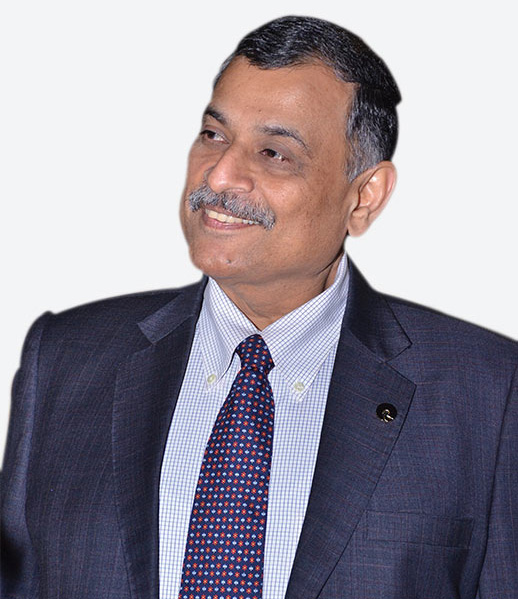 From the COO's Desk
Vipul Shah
COO – Petrochemicals Business
Sustainability and circularity concepts are embedded in everything we do at Reliance Industries Ltd's PetChem business. As an Industry leader, we work with industry players to instill concepts of sustainability & circularity throughout textile value chain. One of the guiding principles at RIL enshrined by our Chairman Mukeshbhai is to incorporate sustainability into the design element of any project.
Reliance had started practicing sustainability even before the words sustainability and circularity entered into our day to day vocabulary. Reliance recycles PET bottles for over two decades now, and there are many such initiatives.
The following examples emphasise our thrust of R&D on improving existing products and processes and finding new avenues with focus on deploying more cost effective, efficient - sustainable and circularity concepts.
RIL's key sustainable and circularity concept-based initiatives are.
Recron GreenGold
R|Elan GreeenGold
Circular Design Challenge
The EarthTee
#RecycleForLife initiative
R|Elan regular fashion event at Lakme Fashion Week
About
COMPANY BACKGROUND
A significant global player in the integrated energy value chain, RIL recorded a consolidated turnover of ₹622,809 crore ($90.1 billion), cash profit of ₹64,478 crore ($ 9.3 billion), and net profit of ₹39,588 crore ($5.7 billion) in FY 2018–19.
In 2019, RIL became India's largest company in the Fortune Global 500 list of 'World's Largest Corporations'. It currently ranks 106th in terms of both revenues and profits. The company stands 71st in the 'Forbes Global 2000' rankings for 2019 – the top-most among Indian companies. It ranks 10th among LinkedIn's 'Top Companies Where India Wants to Work Now' (2019).
RIL has always been committed to the Common Man. Surging forward through backward vertical integration and raising money from the masses, it went on to become India's largest company. RIL took its policy of backward vertical integration to an altogether different plane when it diversified from textiles and petrochemicals into petroleum refining, and forayed into oil & gas exploration and production.
RIL owns and operates one of the most integrated petrochemicals facilities globally, with a portfolio comprising polymers, polyesters, fibre intermediates, aromatics and elastomers. The company provides world-class experiences to its customers across a range of applications—packaging, agriculture, automotive, housing, and healthcare among others. Among the top 10 producers for key petrochemicals, RIL holds leadership position across product categories globally.
In 1999, RIL set up the world's largest grassroots refinery at Jamnagar, Gujarat. A second refinery followed in 2009. Currently, the combined Jamnagar refining hub processes 1.40 million barrels of crude a day—the maximum at any single location globally. These refineries process a wide variety of crude oils and produce a range of petroleum products for exports as well as supply in the Indian market. RIL's refining business continues to outperform with premium over Singapore refining margins, demonstrating operating excellence and healthy industry fundamentals. In addition, the company operates 1,385 petroleum retail outlets across the country.
Keeping with its commitment to sustainability and growth, RIL through its CSR arm—Reliance Foundation (RF)—is working wonders in areas of rural transformation, health, education and sports for all (ESA), disaster response, urban renewal, and arts, culture and heritage. The Foundation has touched the lives of more than 34 million people across India, in more than 20,000 villages and several urban locations.
Products
Sustainable Products
RIL, the largest integrated polyester producer in the world, is a pioneer in recycling of post-consumer (used) PET bottles in India – an activity it has been pursuing with great vigour for the past two decades. And now, with people becoming more aware about the importance of recycling, sustainability and circular economy, RIL's efforts in these directions are gathering momentum.
The company has a vision to make India a global leader in optimum resource utilisation, sustainability and adoption of the circular economy concept. To realise this, RIL has intensified ongoing initiatives in various processes across downstream chains. All operations are focused on zero-waste production, increasing use of alternative energy, and recycling of products and resources.
RIL is aware that implementation of the circular economy concept across the entire value chain is a must for healthy growth of the textiles industry. To drive this internally, RIL not just manufactures virgin polyester fibres and yarns, but it also segregates, collects, and processes used PET bottles to make clean flakes, and melt them to make one of the greenest fibres—Recron GreenGold. The fibre is used to manufacture R|Elan™ GreenGold fabric which has one of the lowest carbon footprints in the world. Externally, the company works closely with its Hub Excellence Programme (HEP) partners comprising renowned mills from all over India to spread awareness among end consumers.
R|Elan™ Fabric 2.0 powered by GreenGold is a fabric with unmatched eco-credentials. The fabric is made by recycling post-consumer PET bottles, using renewable energy sources, and has one of the lowest carbon footprints in the world.
GreenGold can be made from pre-coloured fibres, which remove the need for downstream dyeing, thereby saving water, energy and chemicals. GreenGold is Oeko-Tex certified, making it safe for even baby products, in addition to ISO 9001, ISO 14001 and OHSAS 18001. It is GRS (Global Recycled Standard) certified as well—a major requirement for global brands. RIL is one of the few Indian companies that meets Responsible Care requirements by the American Chemistry Council.
R|Elan GreenGold fabric has received a very encouraging response from both its customers and end-consumers. This is evident from the series of partnerships with leading brands, including Wrangler, Myntra, Proline, Kappa (Lifestyle), etc.
The Indian textiles industry is poised for strong growth both in exports and domestic markets. With an increasing number of mills investing in downstream capacities, the country is developing capabilities to provide quality products for export markets. With rising income and increasing consumer aspirations for high-performance apparels, RIL expects a robust growth in demand for innovative fabrics in India too.
However, large sections of people in tier II/III cities and rural areas are still unaware about the eco-friendliness of R|Elan™ fabrics. RIL is determined to reach out to them through popular media, and make them partners in development by inculcating in them the habit of responsible disposal of plastics and waste.
On the other hand, ReRoute is a newly launched brand from RIL for shredded flexible end-of-life plastic waste that can be used in road construction. ReRoute makes roads more durable, pothole free and even saves the cost of construction. ReRoute not only substitutes 6–8 per cent of bitumen and improves the binding between the aggregates and bitumen, thereby increasing the durability of the road but also provides solution for the litter problem that the world is currently facing.
Thus, providing a monetary value to discarded waste ensures its collection, which in turn reduces the quantum of end-of-life plastics finding its way into landfills.