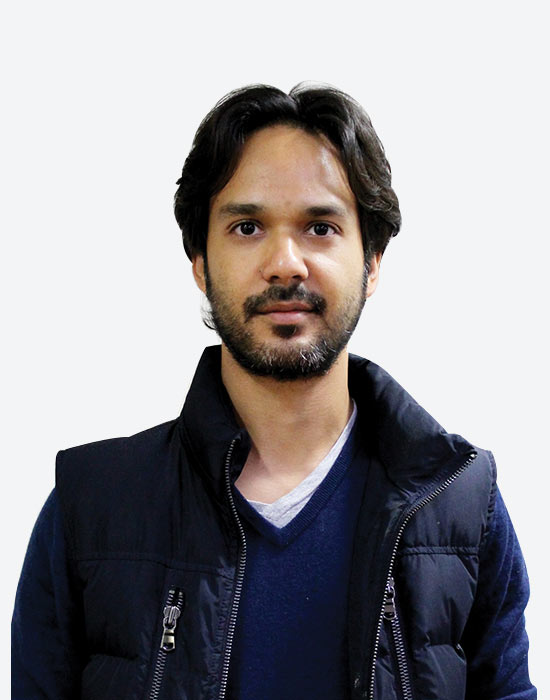 From the Managing Director's Desk
Sumit Mahajan
Managing Director
We at Paramount Products Private Limited believe in leadership through excellence. Forty-five years of diverse international experience in women's and kids' wear, exporting to brands in the United Kingdom, Sweden, Spain, Germany, France, Norway and Denmark has provided us with a strong supply chain of fabric, materials, and technical knowhow and an annual turnover of nearly $55 million. We are committed to our clients' needs and ensure they receive quality products, reliable deliveries, and support in design development.
Our vision: To be the most inspired solution for branded clothing in terms of speed delivery, designs and value.
Our mission: To create sustainable employment in our country and improve the lives of our people.
Our values: Commitment, integrity, innovation, quality, consistency, empowerment, mutual inclusive growth, constant evolution.
We are working towards the Industry 4.0 concept and monitoring closely all aspects of production. We do produce speed orders within stipulated short lead times for our buyers. The continuous upgradation of operational and production processes is followed to achieve maximum cost-efficiency through optimal utilisation of resources. We have thus already commenced a journey to become a leaner, stronger and a sustainable organisation. In continuation of our efforts towards environment and society at large, we shall be broadening the footprint of our sustainable operations in future as well. We make sure that our operations meet compliance standards, including occupational health and safety and our sustainability management systems are periodically audited by buyers and third parties. We strongly see the need for innovation and our products have always been inspired by designs focusing on 'Environmental, Social and Economic Sustainability – A product of Innovation'. We see it as a best way to enhance profits and believe that working on sustainability pays rather than costing to our organisation. We are proud to have a growing reputation as a trend conscious Garment Export Company with parallel focus on Sustainability. .
About
Company Background
Paramount Products Pvt Ltd is a privately-owned and familyoperated garments export business house and has been a pioneer in this field since its launch in 1973. Today, the company exports to brands in the UK, Sweden, Spain, Germany, France, Norway and Denmark. The company has a total of 3,000 stitching machines in our units and a total workforce of 5000+ employees. Our company has six units (five cut-to-pack units and one inhouse computer embroidery unit) with total covered area of 300,000 sq ft in Noida and a capacity of 700,000 pieces per month. We produce 6.5 million garments per year and export to 15 countries. Our factories are regularly audited by our buyers—Inditex Zara, H&M, Primark, Sainsbury, NEXT, Best Seller, River Island, ASOS and Mango—and third-party audit agencies nominated by our buyers—ITS, BV, SGS, UL, ELEVATE and TUV-SUD. "We are GOTS and GRS certified, are members of BSCI & SEDEX-ETI and Better Cotton Initiative (BCI) as well." Paramount has strong in-house teams to execute the business. An overview:
In-house design team: We have a team of professional, Indian as well as international designers working closely with clients to develop styles suited to their individual look and also creating company's own range based on seasonal transitions and runway collections.
Sampling and product development: Our merchandisers have a strong rapport with buyers, and a good understanding of their individual demands. We use state-of-art machinery and CAD in our centralised sampling unit to provide highquality products to our buyers. Paramount also has a strong inhouse R&D. An overview:
Research and development team: Monitors and checks production feasibilities of styles and suggest new and innovative methods to ensure maximum productivity and improved quality. "We use attachments to add values and excellence and to maintain product's uniformity and quality."
In-house lab: We have inhouse laboratory accredited by a lot of our buyers and having latest certified instruments. We conduct various tests based on parameters laid by our buyers, including testing of our fabrics before bulk cutting.
Industrial engineering: The in-house department takes care of production planning and control and also handles operation bulletin preparation, layout preparation, line balancing, capacity study, skill matrix development, workers training, deskilling of operations, and KPI-based management system.
Speed delivery: We handle speed delivery by following seven pillars during preproduction. Order is updated in ERP within 24 hours of receiving from buyer. Fabric team takes 7 days target for fabric lab dip/swatch and vendor closer. A ten-day target is given for fit closer. Regular meeting is conducted with merchants for status on closer. Our dedicated account-wise trims and fabric sourcing team hold regular meeting with merchandising team to update status. Centralised R&D team studies production feasibility and makes description for the style. Further, there is PCD monitoring for all the accounts.
Technology, automation and quality management: We use automated embroidery tracing making machine, automatic thread cutting machine for overlock, next generation sewing machines Brother 7250 model, button wrapping machine, profile making machine to prepare all templates in-house, cut planner for accuracy of ratio and auto calculation of cut plan, and ERP system for preventive maintenance of the machines.
Lean manufacturing and six sigma: Lean manufacturing concepts are improving operational efficiency. We removed extra transport from central fabrics store located at our head office, by making factories self-reliant right from fabrics as raw material till ex-factory of ready final shipments. This helped us in sharing quicker feedback with mills, incorporating required process change and improving the fabric quality. We are also switching over to integrated and continuous production lines (Online Production System) attaching finishing and packing with production line itself. Process change improves quality due to quicker and prompt feedback of observed defects to corresponding production machine and also reduction in cost by removing multiple count and audits along with transport to next department. Cutting the waiting time for finishing and packing after production has also reduced shipment's lead time. Regular process improvement initiatives represent ours commitment for continual improvement.
POLICY
Sustainability POLICY
Paramount Products has been implementing sustainability programmes for the last five years. "We have taken leadership role by adopting global sustainability practices, developing strategic partnerships and implementing best practices to reduce impact of our operations on the environment and people. We commit to upholding the highest standards of governance and ethics, and fully subscribe to principles of sustainable development namely inclusivity, integrity, stewardship and transparency, and strive to continually improve our sustainability performance."
Paramount is implementing the Environmental Management Systems (EMS) throughout the group in order to measure, control and reduce environmental impacts of production in our factories.
"Our company's internal trainers and awareness experts conduct regular training and awareness programmes in our units to imbibe the culture of sustainability within the organisation. Programme goals are regularly set and it targets all employees at all levels right from workers to managers."
The company has been involved in several projects benefitting the employees and community such as.
We Women Project
RAGS – Productivity enhancement project
SWAR – Energy conservation project. We have installed solar power system in our units.
HER – Health improvement project
GOTS & GRS certification
Participating in BCI
Adopting Higgs & SLCP programmes
Initiatives
Sustainability Initiatives
Paramount Products has been taking adequate initiatives as listed below, to control its carbon footprint:
Raw water management: We have been continuously working to improve water efficiency and bringing down water consumption mainly in washing operations. Metering systems have been installed across the water distribution network.
Other steps:
Designated team to monitor water saving alternatives;
Developed water saving training programme / plan for workers;
Planned strategies to reduce water consumption;
Higher efficiency plumbing fixtures installed in the factory to prevent water leakage / wastage.
Industrial type RO plants installed in all factories to supply drinking water;
Water recharging / reuse: Our factories have rainwater harvesting system (RWHS) for ground water recharging. Rainwater, through installed filter, is directed from rooftops to the collection pit and gets recharged into the ground. Groundwater recharge planning is also being done by adopting ponds in nearby villages. Freshwater usage is further reduced by using RO system reject water for flushing in washrooms.
Wastewater treatment: All factories have ETPs and the treated wastewater is disposed of into the public sewerage system as authorised by local authorities. "We look forward to install zero liquid discharge systems in our units."
Waste handling and disposal:
Non-hazardous waste is segregated and stored properly in designated waste storage areas and handed over to authorised recyclers.
Hazardous waste handling rules followed to handle the solid waste generated from ETPs in the form of dry sludge and waste oils from DG set and machines, etc. and handed over to Bharat Oil Waste Management Ltd.
Solar Power – Renewal Energy Initiatives:
In pursuit of introducing and preferring renewable energy resources, the company has installed around 165 KW of Solar Power Rooftop Panels in the factories for generation of sustainable energy i.e. Solar Power. Installed Solar Power Plants have been providing clean energy and contributing in saving 10–15 per cent of electricity purchased from State Electricity Boards.
Energy saving & conservation Initiatives: The following steps have also been adopted as energy saving and conservation initiatives:
Setting up of a team for monitoring and studying energy consumption patterns of equipment at the plant floor level and undertaking energy demand management to make better equipment run-time decisions.
Besides provisions for close monitoring of energy consumptions during production, installation of highly energy efficient machines, equipment and other electronic devices also done.
Energy efficient servo motors and LED tubelights being used.
Boiler feed water tanks kept in open direct sunlight for preheating.
Steam pipeline well insulated throughout the factory.
Aluminium piping system for compressed air distribution.
Hot air emitting from pressing tables connected with exhaust duct.
Rooftop natural draft exhaust fans installed.
Routine preventive and corrective maintenance schedules and regular trainings to workers for energy efficiency.
Petroleum Natural Gas (PNG) fired boilers and tumblers in washing section have been instrumental in reducing our carbon footprint.
Chemicals management system: The following are in place:
MRSL and RSL of chemicals studied vis-à-vis buyer's restricted substance lists;
Bulk purchase of chemicals only after approval of shared MRSL and RSL by chemical responsible manager and MSDSs being maintained for all the chemicals;
Currently working on to get fully compliant vis-à-vis ZDHC compliant chemicals requirements and buyer's Positive List of Chemicals;
Regular training of workers on proper storage, usage, handling and disposal of chemicals, and providing chemical masks to the workers handling chemicals.
Social compliance audit systems: Social compliance has been an integral & top concern. The factory conditions (health & safety, fire safety, electrical & machine safety), environmental practices & chemical handling meets the best of the industry standards.
Routine social compliance management system: The company has all the required licenses, registrations, NOCs, etc. It also does periodic monitoring and meets health & safety compliances and PPEs. A special chemical management team takes care of chemical compliance. Risk assessments are also carried out on regular basis to map the hazards associated with various operations and in various production sections.
Supply chain mapping: The company engages with suppliers and sub-contractors to map the source of raw material and production processes. "It helps us to ensure production traceability, thus ensuring desired qualities at right prices and timely delivery. " The Mapping process of our tier 2 suppliers (greige fabric suppliers, fabric processing dyeing & printing mills, computer and hand embroideries etc) greatly helps us in better tracking and tracing of our raw materials giving us straightaway benefits in achieving better qualities with better timely delivery at right prices—a must in today's world desirous of traceability and sustainability.
Initiatives
Circularity Initiatives
Circular Economy (CE) concept has been gaining momentum across Indian industries, especially the Apparel Industry. At Paramount, we are becoming increasingly aware of the fragility of our planet and are committed to work towards a sustainable future in fashion. Our designers put more focus on creating new collections adopting Natural or Recycled Sustainable fabrics and have been opting for the use of BCI / Organic cotton over conventional cotton that require significantly less water and no fertilisers, eliminating harmful pesticides and other chemicals from the production or pesticides to grow and minimising the environmental impact especially of cotton production. Switching over also helps in tracing the bulk process from the initial farming until the last production stage in a highly structured way. We have also diverted the sourcing to fabrics containing Ecovero and Tencel certified fibres. We believe that Ecovero and Tencel are great sustainable alternative to conventional viscose and they are soft, luxurious feeling fabrics, as these fibres are produced from specially processed wood pulp and its anti-bacterial properties makes it ideal for sustainable fashion clothing. Our designers design polyester content garments using recycled fibres fabrics made out of used plastic water bottles and this process uses nearly half the amount of energy and the recycled polyester feels very soft and lighter than virgin polyester.
Our designers regularly visit international trade shows to build Paramount's materials directory. Premier vision and Texworld Paris are our favourite destinations for the newness across conventional and eco-friendly fabrics.
We are constantly focusing on incorporating sustainability for the value additions also. Broderie anglaise on traditional cotton takes an excessive amount of water and chemicals. However, manufacturing garments using organic broderie angalise ensures the process control that the crop for the base fabric is harvested without any toxic pesticides, synthetic fertilisers, or genetically modified seeds and the entire process is traceable from the very initial harvesting process till the final ready to ship garment stage.
As clothing plays a major role in our lives, Paramount is constantly working on to reduce pressure on resources and restore the balance between people and planet with regards to fashion and encourage sustainable fashion which raises awareness on who made your clothes, what they're made of and how their production impacts people and the planet.
Paramount units have GOTS and GRS certifications, and we are also a member of BCI.
Global Organic Textile Standard (GOTS): Paramount's Unit E 3 has been re-certified in December 2019 and Unit C 85 got GOTS certified in October 2019.
Global Recycle Standard (GRS): Paramount's Unit C 85 has been GRS approved In February 2020, whereas Unit E 3 was first GRS certified in February 2020.
Better Cotton Initiative (BCI): Paramount Products has been a member of BCI from last 3+ years. BCI is a holistic approach to sustainable cotton production covering environmental, social and economic – all the three pillars of sustainability.