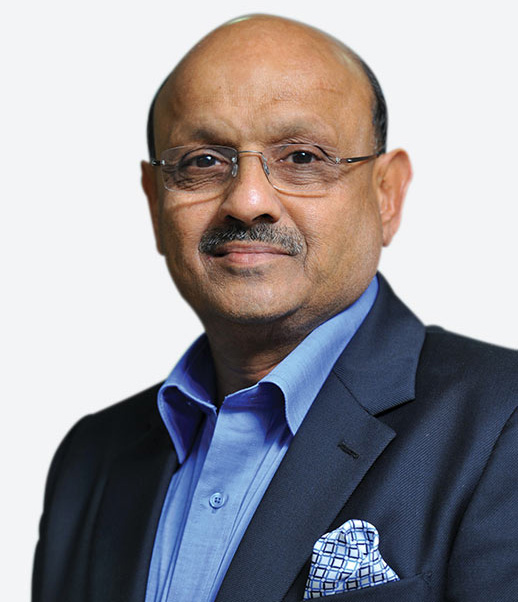 From the Executive Chairman's Desk
Anil Kumar Jain
Executive Chairman
At IndoCount, environmental responsibility is key in the decisions we make. We track our water and energy consumption, look at how we can best treat all discharge, and create green zones around our facilities to make life better for everyone.
We focus on ensuring environmental sustainability, ecological balance, protection of flora and fauna, animal welfare, agro-forestry, conservation of natural resources and maintaining quality of soil, air and water.
About
Company Background
perfect blend of expertise, technology and innovation can race up the business globally. The Group has a great history of creating quality yarns and embedding it into every fibre woven at Indo Count. From product design and development through branding and marketing—Indo Count adds innovations and creativity throughout the supply chain to make it sustainable.
Indo Count promotes consumer surveys and market research to figure out what is essential to customers concerning bedding and how they can make their experience better. Indo Count always seeks a more creative and tech-friendly way to improve the processes in weaves, dyes and finishes. The Group has developed amazing sustainable products that bring complete comfort to consumers.
Indo Count sources the best cotton from India and other parts of the globe. And then, the company uses state-of-the-art equipment to spin, weave, bleach, dye and print, focuses on bedding and branding of products.
Indo Count controls quality across the entire manufacturing process.
Today, Indo Count is well-known as an end-to-end bedding provider solely focused on improving people's lives through better sleep experience. Indo Count has integrated manufacturing capabilities to export a complete bedding solution to customers around the world. The Group exports 90 per cent of its production to 50+ countries.
Our Policy
Sustainability Policy
Indo Count has always been quite aggressive in positioning itself in the highly competitive global textile business, and it has never shied away from delivering its responsibility towards numerous environmental-related causes and issues. The Group is continuously chasing a sustainable business model to make the planet a healthier place to live in.
Sustainability is more than just action towards a balanced environment; it's a way to Think, Implement, and Create. Indo Count continuously strives for opportunities to set a new level for sustainability. The company would endeavour to adopt an integrated approach to address the community, societal and environmental concerns.
Indo Count has the following policies to pursue this concept:
Ensuring Environmental Sustainability: Indo Count ensures that natural resources and ecosystems are managed sustainably to fulfil the social, economic, and environmental needs and demands. The Group tracks the performance and its effect on the environment to improve the strategy accordingly.

Conservation and optimal utilization of natural resources continues to be the topmost priority for ICIL the company's Home textile facility at Gokul Shirgaon received LEED- Green building Certification from Green Building Council, USA , the most well-known green building rating system in the world and a globally ecognized symbol of sustainable achievement. ICIL adopted various measures viz. State-ofthe-art, zero discharge effluent treatment plant (ETP) and a reverse osmosis (RO) plant for recycling waste and water as well as rain water harvesting and solar power. ICIL also participates in the CITI-CDRA project which aims at providing farmers social upliftment. The other impact are to improve yield and production of cotton, pant protection and Nutrient management technologies and equipping the farmers with this technologies for sustaining cotton production and improving the economy status of the farmers who are the weakest link in the cotton value chain. The project is also involved with companies likeBayer Crop science who plays a major role in shaping agriculture through break-through innovations for the benefit of the farmers, consumers and the environment.

ICIL under the Carbon Disclosure Project, also declares Carbon Footprint Savings as part of its responsibility towards sustainability. One of the biggest achievements is ICIL's association with the University of Leeds for structured research and product development. Indo Count and the University of Leeds, UK, were delighted to announce in September a collaboration with the School of Design of the University of Leeds, a recognized leader in Textiles & Sleep Research that provides the technology platform to support a strategic alliance to enhance Indo Count's innovations capabilities to deliver new and exciting products into the home textile sector. Leeds University has a long distinguished history in textile technology and design stretching back to its predecessors, the Yorkshire College of Science in 1874.

Conservation of Natural Resources: Indo Count involves natural resources conservation in their sustainability policies. It includes rational use and skillful management and preservation of the environment.
Maintaining Soil, Air, and Water Quality: At Indo Count, conserving and enhancing the quality of soil, air, and water is a must-follow policy for environmental improvement as these are the three basic that keeps environment green.
Intiatives
Sustainability Initiatives
At Indo Count, responsibility plays a key role in every decisionmaking. The Group tracks water and energy consumption to ensure the right use of resources.
Air and Noise Pollution: At Indo Count, both air and noise pollution have been greatly reduced with new acoustic systems that have been placed on DG sets and air compressors.

Water Treatment and Conservation: Indo Count ensures that no harmful substances are discharged into the environment by using state-of-art Italian zero discharge ETP plant for the primary, secondary and tertiary treatment of effluents, producing clean drinking water. Also, the group includes rainwater harvesting for water conservation.
Energy Efficiency and Conservation: Indo Count uses new technology and equipment for the manufacturing process to conserve energy.

Oxygen analysers provide increased fuel efficiency;
Blowdown TDS sensors and values maintain optimal levels and save fuel by reducing heat loss;
VFDs allow for greater mechanical life, less downtime and increased energy conservation;
"Siren & Panel" gas leak detection provides greater fuel efficiency.

Sanitation: Indo Count addresses sanitation at the local level. Under the Prime Minister's Swatch Bharat Abhiyan, the Indo Count Foundation partners with local town and village gram panchayats to develop sanitation programmes that address the unique needs of each community. Indo Count puts great efforts to create a cleaner and healthier environment that extends far beyond its plants and facilities to the dozens of nearby towns and villages.
Toilet Blocks: Indo Count has built 50 toilet blocks with the support of the Kolhapur Municipal Corporation. The company aims to be the first corporation free of open defecation.
Reverse Osmosis Water Purifying Plants: Indo Count is providing RO drinking water through the ATM system to 15 villages initially. Each RO system can fulfil the need of 1000 families in a village and can eradicate waterborne diseases such as dehydration, indigestion, cholera, diarrhoea and gastric problems, which are very common in rural areas.
Carbon Disclosure Project: Indo Count declares Carbon Footprint Saving as a part of its responsibility towards sustainability. The company has built a new production plant, which is LEED-certified 'Green Building'. The Green Building has both solar power and natural daylight, which aids in reducing its carbon footprint.
Energy Savings: Currently, Indo Count saves 4 million kW per annum, and it aims to enhance the usage of renewable energy across its plants.
Project Gigaton: Indo Count has joined one of its major customers' Walmart's Project Gigaton. This project provides an emission reduction toolkit to a broad network of suppliers seeking to eliminate one gigaton of emissions, focusing on areas such as manufacturing, materials, and use of products by 2030. At Indo Count, Project Gigaton is committed to reducing greenhouse gas emissions resulting from their operations and supply chains. The projects are focused on addressing social and environmental issues in ways that help communities while also strengthening businesses.
Packaging: Indo Count strives to develop new and more sustainable offers by working with customers to meet and exceed their sustainability ambitions. Overall, 20 per cent of Indo Count packaging is sustainable.
Chemicals Management Plan (CMP): Indo Count aims to reduce the risks posed by chemicals to workers and the environment. The Group continually improves the sustainability of its products through raw material choices, the use of organic dyestuff and reducing chemical usage, producing ranges that are eligible for Made in Green and Oeko-Tex Standard 100 labelling.