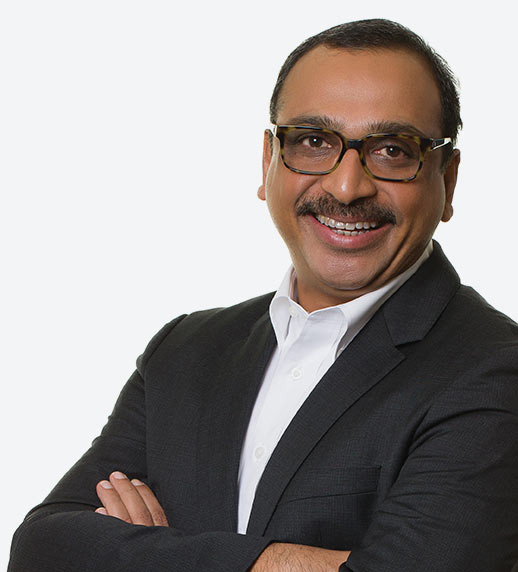 From the President's Desk
Rohit Aggarwal
President
 The fast-changing dynamics of the textiles industry and growing awareness of climate change are transforming the way we do business across the value chain. Our industry is striving to create cleaner and more transparent supply chains to meet regulations and consumer demands.
Brands have tighter delivery schedules and cost-efficiency targets, and they require textiles that combine excellent performance and aesthetics in equal measure to meet the latest trend and demands across end use markets in apparel, home and functional textiles.
At Huntsman Textile Effects, we enrich lives through innovation and are developing solutions that not only create value for stakeholders today but also make a vibrant world possible for future generations.
Over the past few years, we have reorganized on a global scale and made the conscious decision to invest more in innovation and to emphasise sustainability in all of our processes, practices and products.
As one of the world's leading suppliers of textile dyes, chemicals and inks, we are fully committed to building a sustainable future for the textile industry.
Our Policy
Sustainability Policy
Huntsman product innovations and economic and social investments are having a direct impact on three key pillars of sustainability: people, planet and profit. "Our commitment is seen in the communities we support through social investments in education, health, economic development and environmental protection. We are developing products that help reduce the environmental impacts on our planet and implementing manufacturing processes that reduce our own environmental footprint. Our commitment to sustainability and its importance to our global business are evident in the investments we have made over the past two decades.
We believe that sustainability is the key driver of innovation and this supports our vision to improve the quality of life while sustaining the environment for our present and future generations. As a signatory to the United Nations Global Compact (UNGC), Huntsman aligns our operations and strategies with UNGC's ten universally accepted principles as part of our strategy, culture and day-to-day operations."
About
Company Background
Huntsman Textile Effects is a leading global provider of high-quality dyes, chemicals and digital inks to the textiles and related industries. With operations in more than 90 countries and six primary manufacturing facilities in six countries (China, Germany, India, Indonesia, Mexico and Thailand), Huntsman Textile Effects is uniquely positioned to provide prompt and expert technical service wherever customers are based. Sustainability, innovation and collaboration are at the heart of what the company does. "We use cutting edge technology to develop solutions and create innovative products with intelligent effects such as durable water repellents, colour fastness, sun protection or state-of-the-art dyes which reduce water and energy consumption."
INTIATIVES
Sustainability Initiatives
Innovation is critical to the growth and sustainability of the Huntsman business. The company is investing more in product innovation and sustainable processes, intelligent effects and digital inks. Huntsman Textile Effects today holds around 700 patents and some 25 per cent of the products are less than five years old. The company consistently invests around 5 per cent of the turnover in research and technology and more than half of the projects are related to environmental sustainability.
"Crucially, we believe in delivering innovation with purpose. Our world faces great challenges such as population growth, climate change, water scarcity, and energy management. In Asia, the world's most diverse and dynamic region, these issues impact our daily lives in real ways. People here are eager to find solutions and Huntsman Textiles Effects has a key role to play in this quest."
Huntsman's Textile Effects is working with leading brands to provide them the most sustainable products for their garments and fabrics. Traditionally, polyfluorinated compounds (PFCs) have been used to make end-products more resistant to water and stains. Everything from cookware to cosmetics, and construction materials to outdoor gear, has been treated with PFCs to keep them looking newer for longer. But PFCs have been identified as environment-unfriendly. Huntsman's non-fluorinated durable water repellent can be used on high-performance synthetic textiles to provide environmentally friendly clothing that has extreme rain and stain protection. As a result, garments need less frequent washing, thereby reducing the environmental footprint of treated fabrics.
Huntsman's AVITERA® SE reactive dyes use up to 50 per cent less water and energy than conventional dyeing technologies, and are free of para-chloro-aniline and other hazardous substances, AVITERA® SE dyes also help mills improve productivity and yield, and provide businesses with a cleaner supply chain.
The company is also accelerating the industry drive for supply chain sustainability by joining the ZDHC Roadmap to Zero programme as an active contributor. This adds a new dimension to Huntsman's long-standing efforts to promote sustainable chemistry and best practice in the textiles and footwear industries and help lead the sector's shift to a cleaner and more transparent global supply chain.
As a ZDHC contributor, Huntsman Textile Effects has uploaded detailed safety and sustainability information of its key products onto the ZDHC Gateway Chemical Module. This will support brands and mills in selecting products and practices to make their supply chains more sustainable. Huntsman Textile Effects will also continue to work to help brands improve their competitiveness while protecting consumers, workers and the environment.
Planned
Circularity Initiatives Planned
As a major supplier of textile dyes and chemicals for the textiles and apparel industry around the world, Huntsman Textile Effects invests heavily to find cost-effective solutions to the industry's water dilemma. The breakthrough AVITERA® SE range of poly-reactive dyes reduces the water required for cotton dyeing to 15–20 litres/kilogram, delivering water savings of up to 50 per cent compared to previous best-available dyeing processes.
The AVITERA® SE wash-off process also requires a lower temperature of about 60°C instead of closer to 100°C for conventional washing-off. This slashes energy consumption by up to 50 per cent and makes washing-off up to 25 per cent faster. Due to the efficient process, the productivity gain is 25 per cent or more, which provides better return on investment for mills.
The market for outdoor apparel is growing worldwide, and customers expect comfort and high-performance protection. Rain, stain and soil-resistant effects are therefore critical. At the same time, the industry is shifting away from traditional formulations based on PFCs due to environmental health and safety concerns. PHOBOTEX® RSY non-fluorinated durable water repellent (DWR) raises the standard for repellency especially on high-performance synthetic textiles. This product will allow brands and retailers to meet global demand for eco-friendly clothing that require extreme rain-and stain- protection.
The company provides the most comprehensive range of non-fluorinated durable water repellents with HIGH IQ® Repel products that offer solutions for every performance need. Products under HIGH IQ® Repel are part of a brand assurance scheme to help mills, brands and retailers meet global demand for eco-friendly apparel with rain and stain protection.
Huntsman Textile Effects also has a suite of digital ink solutions to meet growing demand for fast fashion. Our digital printing technologies allow mills to print an almost unlimited array of colours and complex patterns in short runs through a very clean process that minimises waste and substantially reduces water and energy consumption.
The NOVACRON® ADVANCE ink is the next generation of reactive inks for cellulosics with outstanding shade depth and colour gamut, developed for the latest industrial digital printing machines. The full range achieves remarkable deep shades with perfect reliability and reproducibility compared to currently available technologies.
The ERIOFAST® VISTA ink enables printers to achieve brilliant lasting designs on polyester / cotton blends and outperforms the best alternative solutions in digital printing in terms of brilliancy, colour depth, fabric handle and wash-fastness. Using inks from this range enables printers to adopt a simple urea-free process with significantly reduced energy consumption, washing, machine maintenance and carbon dioxide emissions.