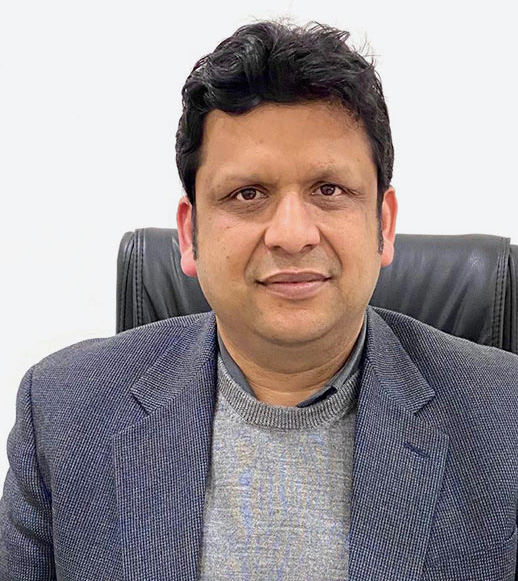 From the CEO's Desk
Anurag Gupta
Chief Executive Officer
Sustainability is at the core of our business and it goes beyond offering green products. It is our resolve to meaningfully contribute to the global effort by reducing the carbon footprint of textiles, using less natural resources, consuming textile waste and completing the loop in the textile value chain. We transform post-industrial textile waste into quality yarn, suitable for making garments which are more sustainable. We are committed to produce and promote pure recycled textiles, to support the rising demand of eco-friendly materials—from sustainable brands—across the globe. We aim to challenge and overcome the limitations of recycled textiles, continuing our step by step achievements in terms of bigger lot sizes, largest colour range, more blends and quality consistency.
About
Company Background

Usha Yarns has a legacy of more than two decades in learning, developing and producing recycled textiles. Today, the company has three recycled spinning plants in operation spread across 20 acres within the proximity of Chandigarh. The plants are modern and equipped with the best recycling technology driven by equipment brands like Rieter, Truetzschler, Oerlikon and Schlafhorst.
The company has a monthly capacity to produce more than 1,000 tonnes of regenerated yarns in different solid and mélange colours, certified by Global Recycling Standards (GRS). The products are thoroughly examined on each quality parameter of global standards to ensure the complete satisfaction of customers. The company is an emerging brand in circular textiles, known for offering unique values like 100 per cent recycled content, big lot sizes, no colour variations and fine quality for both hosiery and woven applications which sets it apart from competitors.
Policy
Sustainability Policy
Sustainability is at the core of the business and it goes beyond offering a green product. To create sustainable values for customers, the company provides recycled yarn while closing the textile loop. The company senses an emergency on the climate crisis and responds to it by reducing its dependency on fossil fuels, chemicals, water, energy and emissions.
The company is committed to acting more responsibly as the textiles value chain was always questionable for polluting the environment and presenting a threat to ecosystems. "We take holistic approach by adopting green alternatives which are zero discharge, closed loop and renewables to stabilize toxic environment. Our sustainability initiatives are derived from following key values:
Reducing our dependency on precious natural resources like land and fresh water;
Count our carbon footprint as we look back to our emission which generates tonnes of toxic fumes and polluting our breathable air;
Stop harmful chemicals like fertilisers, pesticides and dyes which are getting into land and water streams only to return to human bodies through the water and food chains;
Close the textiles loop by recycling garment waste turned into regenerated fibres and then yarn which have almost similar utilities to replace virgin textiles.
Initiatives
Sustainability Initiatives

The sustainability goals of the company are driven by three main principles—product, environment and social—which cover various aspects as described below.
products
Responsible products

has become a major source of pollution in the fashion and textiles industry, utilizing 2.5 per cent of the world's arable land and accounting for 16 per cent of all pesticides used. "We have recycled the cotton textile and have put recycling yarn technologies at the heart of our strategy. We are re-evaluating waste and using it as our primary material source." Usha Yarns replaced virgin cotton, by recycling cutting waste from the industry, and second, by using fibre made from recycling PET bottles. The 100 per cent recycling process ultimately supports and enables more sustainable textile circulation for the fashion and textile industry.
Environment
Environment
Water: Usha Yarns actively takes responsibility for saving water with several initiatives. "We integrated a dry dyeing process, where no water process and no chemicals are utilised. This ground-breaking process allows us to save up to 86.182.600 kilo litres of water every month. Apart from this we have equally invested into water management systems such as: tap water regulators that avoid water wastage, rainwater harvesting systems to restore waterfall during the monsoon, and an STP unit to recycle and reuse the wastewater.
Energy: Continued efforts for energy reduction are at the forefront of Usha Yarns targets. The dry processes in making dyed yarns not only reduce water consumption, but also allow to save energy. "Our mill infrastructure is a green building certified by IGBC India and provisions to reducing air conditioning systems and modular lights permit us to reduce energy consumption. Our regular machine maintenance and up gradation play vital role to reduce energy consumption efficiently." Usha Yarns aims to shift step by step to renewable energy sources, starting with solar energy.
Chemicals: The textiles industry today still uses high amounts of chemicals including substances of concern. Chemicals are utilised at various stages in production including fibre production, dyeing, treating and finishing processes. Usha Yarns uses no chemical that have impact on human health and on the environment. Employees are properly informed and trained to handle a secured application of the substances during the production process.
Emissions: "We successfully managed to reduce radically CO2 emissions by eliminating numerous steps in our supply chain. By replacing traditional dyeing with our dry dyeing technique and the use of pre-coloured yarns, we have been able to cut down CO2 emissions to a minimum." The company has continuously tried to ensure the norms for air, noise and stack emissions. "More than that, we have set a standard for creating a comfortable and eco-friendly environment by encouraging green initiatives like trees plantation, solar lighting and electric car charging points for our employees. These actions are a commitment and a summary of our standards of the ISO14001 certificate, which we have acquired and actively implemented into our workplace policy."
Waste: Circular economic practices are one huge challenge for the future. "Thus, we see waste as food. We have developed a waste management system that segregates category by category our waste, whether it would go to another recycling unit or to proper disposal. Usha Yarn's employees are trained to handle and dispose of the waste in a proper way. Our goal is to take circular practices and measure effluent discharge, reduce waste and ultimately recuse it to 100 per cent in the future."