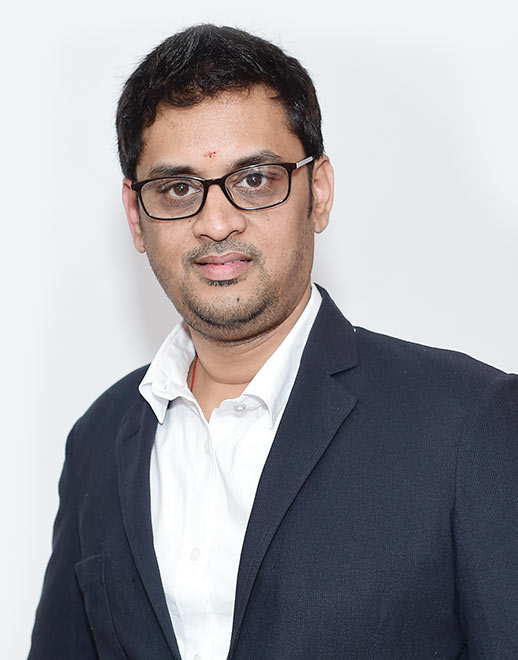 From the Director's Desk
Karthigeyan.B (Karthik)
Director
Here at Suvastra India & Associated Partners, lies a dedicated staff able to interpret and satisfy the ethical fashion industry by providing sustainable design to deliver, platform. An enterprise that can truly offer, a wide range of services, with the highest degree of transparency and ethical standards. We are committed to make a difference in the lives of our employees and partners through fair and transparent business practices, by providing safe and hygienic working conditions and by producing high quality, sustainably designed products with integrity.
About
Company Background

Suvsastra in Sanskrit means "Happy Clothing''. The company started in 2010 with the vision to create a community of happy stakeholders across the value chain. "This principle of happiness or goodness defines our business ethics, philosophy and the products we make. We believe that we can produce happy clothing only when all the people associated with us, directly or indirectly, are happy in short." It is all about 'The Planet and The People'. The company's mission is to create a community of happy stakeholders across the value chain—from the farmers who produce the cotton and employees to suppliers, and from bankers to customers.
Policy
Sustainability Policy
Suvastra India works on sustainability in the core processes of all daily operations. It is a top priority, and a key factor in the decision-making process, both strategically and operationally. The daily work consists of continuous improvements via audits and follow-ups. "Following this direction gives us a good chance to incorporate sustainability in all aspects of our products in our daily operations."
The company believes in being EcoFair with the following values:
Eco-friendly: GOTS & GRS
Ethically made: Fair Trade and Fair Wear Foundation;
Design: Sustainable design by international designers at the Suvastra Japan design office;
Durability: Support ethical fashion as against fast fashion.
The international offices- Suvastra Japan, Suvastra Europe and Suvastra USA—are aligned to the policy on sustainability and "we all have a common goal which is ethical fashion."
INITIATIVES
SUSTAINABILITY INITIATIVES
Some of the sustainability initiatives taken by Suvastra India are as under:
2013: Joined GOTS and Fair Trade.
2014: Joined Fair Wear Foundation.
2014: Fair Trade India's largest shirt was made—to generate awareness. It remains a record according to the Limca Book of Records.
2015: Joined Global Recycle Standard.
2015: Joined hands with Swastik NGO on Women Empowerment project—to make an impact on women's empowerment, their health and safety.
2016: Made the first Coca-Cola sustainable workwear (pet bottle to shirt).
2017: As part of workers' better life initiatives, distributed living wages for all workers (with contribution from Nudie Jeans).
2018: Started working on Work Wear (EcoFair workwear) to make an impact on the unorganised sector.
2019: Worked on a Workwear Exclusive Collection with the EcoFair concept.
2020: Workwear Exclusive Collection presented in London.