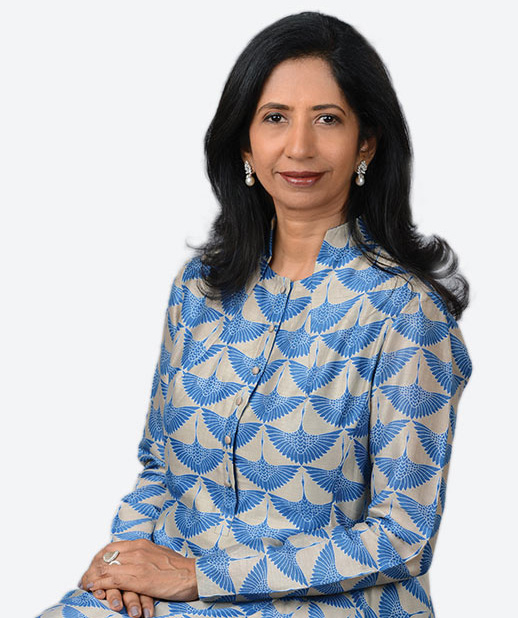 From the Managing Director 's Desk
Shanthi Srinivasan
Managing Director
Since its inception in 1946, Premier Mills has made sustainable development and corporate responsibility an integral part of the way we do business. As an industry leader, we make it our business to stay aware of megatrends that impact our operations, products and stakeholders. It allows us to be a leader in responsible sourcing and production as we seek to influence and improve daily.
We are working to strengthen ties and take sustainability very seriously while being committed to maintaining a transparent supply chain. As we grow, so do our sustainability efforts - our goal is always to limit impact on the environment the best way we can.
About
Company Background
The Premier Group has built a global reputation over 70 years of innovations in the textiles industry. The group was established in 1946 as a manufacturer and exporter of fine combed cotton yarn, producing over 32 million kg in a year. Today, Premier Mills amounts to seven spinning units (375,000 spindles) and two weaving mills integrated with processing and finishing In today's global textiles market, the Premier group is one of the dominant players. The group uses high-grade raw materials, cutting-edge technology and stringent quality control to deliver only the finest products to its customers. The group has a modern integrated weaving and finishing plant equipped with the latest machinery.
Premier Mills uses the finest raw cotton chosen from the US, Egypt and India. The group specialises in bed linen made of dobby, sateen, jacquard, percale, yarn dyed in a range of thread counts from 200 to 1250 using both plied or single yarns with embellishments like fagoting, marrowing, fancy hems, and embroidery, besides an exquisite range of table Linen.
Premier has a well-equipped laboratory with an automatic colour dispensing system. This is one of the very few continuous processing plants with state-of-the-art equipment. The Group covers a wide variety of fine combed cotton yarns, manufactured at its various mills. These cotton yarns are used for knitting, weaving, yarn dyeing, and processing.
POLICY
Sustainability POLICY
Premier Mills is on a mission to treat the planet with care. The Group focuses on 3 Rs of sustainability– Reduce, Reuse, and Recycle. The sustainable practices include using less amount of water, hazardous chemicals, pesticides and fertilisers.
The Group is continuously adopting eco-friendly production processes, which includes using less energy for production and making the best use of raw materials. Sustainable textiles—a blend of natural plant-based fibres like organic cotton, hemp or bamboo—are used in production. Premier Mills addresses the growing awareness of how processes used to make clothing impact the world around us.
The policy integrates goals and activities to drive sustainable development. Sustainable resources and environmental policies depend on socioeconomic and socio-political issues. While planning and managing sustainable resources, the Group ensures that the system meets the needs of society.
The balanced interaction of various environmental, social, and economic policy measures is vital for a successful transition of economy and society towards a path of sustainability.
Economic: Premier Mills understands ecological-economic policy as the sum of all direct and indirect measures that impact the business and promote socio-economic goals.
The challenging task is to rearrange the economic system to achieve well-being with substantial reductions in energy and resource consumption. Premier has developed sustainable economic and socio-political concepts and offers solutions-oriented holistic consultancy.
Premier works on innovative economic strategies and ways to develop more sustainable production. The Group uses green energy for production, and over 60% of production is done using electricity produced from windmills.
Environmental: The Premier Group is committed to making its production, supply chain, products and packaging eco-friendly. The Group continually works to raise the environmental awareness of employees across the organisation and creates a sustainability culture through effective networking, programmes and training. As a green organisation, eco-friendly products have an ethical and civic obligation to save natural resources—the planet.
Premier has established physical environments and organisational practices that are conducive to learning and the health, well-being and effectiveness of all people and the planet. The Group uses Oeko- Tex and GOTS certified chemicals and dyes, which has a low impact on the environment.
Moreover, the Group has built-up areas for rainwater harvesting with a huge storage capacity for Rain water harvesting. Also, Premier has heat recovery systems for better efficiency of energy. The Group recovers caustic soda from processing by using the modern process and reuse it further.
Social: At Premier, social sustainability is about recognising and managing business impacts on people, employees, workers in the entire value chain, customers and local communities, and it is highly important to manage impacts proactively.
The Group takes the responsibility to protect, respect and fulfill human rights. It focuses on educating employees and their families about to improve the lives of people they impact. The Group also prioritises the health and safety of everyone in the organisation.
Initiatives
Sustainability Initiatives
The Premier Group has various programmes, initiatives, and actions aimed to preserve the planet. However, it refers to four distinct areas: Human, Social, Economic, and Environmental.
Environmental: The Group has taken environmental initiatives, which is an interdisciplinary programme of academics, research and outreach, and whose ultimate mission is to advance humanity's understanding and awareness of the environment. Premier is on a mission to research, teach and reach out to people to be more responsible towards the environment. Premier has the potential to create a new market for expanding job opportunities and greater economic potential.
Sustainable fibres: Organic cotton is an excellent choice for making eco-friendly fibres as it is sustainable, renewable and biodegradable. The entire lifecycle of the product is eco-friendly, and 96 per cent of Premier products are made from cotton and rest from other natural and sustainable fibers, which requires fewer resources and creates less environmental damage and is cost-effective. Premier Mills is GOTS certified and organic.
The Group manufacture performance textiles with additional functions such as repellency, resistance or protection from a specified element, including fabrics that resist wrinkles, odours, and protect from other environmental condition. Although Premier wants to comply, introducing natural and sustainable materials can have a counter-intuitive impact. Production facilities are examined under the aspects of the individual components.
Sustainable textiles help Premier Mills achieve more sustainable products and technologies to fix environmental issues. The Group continually works to integrate sustainability into textile designs to ensure sustainable production. The group believes in improving sustainability in all the processes using eco-friendly technologies.
Weaving; Premier Mills uses windmills for above 60% production. The Group uses natural fibres based on cotton, linen and lyocell. The weaving capacity is 1.6 million metres.
Processing: The Premier Group uses heat recovery systems for better efficiency of energy. Caustic soda from processing is recovered using modern processes and reused.
Made-ups: The Group largely considers individual aspects of sustainability such as quality management and renewable raw materials. It is continuously improving environmental performance and social responsibility as well as efficiency.
Viewpoint
Circularity Viewpoint
The Premier Group strives for circularity at every level of the business. The Group focuses on using natural resources and making the best out of them. Premier uses modern technologies for this.
The Group recycles and purifies above 99% of water by biological and reverse osmosis methods.
The Group looks at circularity as an economic system aimed to eliminate waste and continual use of resources. The Group works to keep products, equipment and infrastructure in use for longer periods and thus improving the productivity of these resources. The Group believes that true sustainability only exists when a renewable resource delivers continuously under viable economic terms.
At Premier Mills, the circular economy is about doing business without comprising quality and profit. And if required, the Group puts the planet over profit. The Group is motivated to engage its entire value chain with radical thinking, which involves rethinking product designs, manufacturing processes and systems of commerce. The ways to achieve circularity can be regenerative by restoring resources and ecosystems. Moreover, the Groups believes that the circular economy has the potential to catalyse opportunities in every part of the economic spectrum.
The Premier Group strives for a circular business model with maximised resources and minimised waste. The more ethical way to do business is use the best of resources available to make products, use them at their best, reuse them again, recycle the products and dump it in a way that leaves no harmful effect behind. The Group has embedded circularity to regenerate used products and material into new, which results in waste reduction. Premier focuses on green energy, recycled and reused water, less or no chemical in production, and rainwater harvesting.
Premier Group has attained the complete circularity business model—from design to packaging. This can only be achieved by using 100 per cent renewable electricity. Premier uses windmills to produce 100 per cent renewable energy. The group is moving closer every day to make the business more and more sustainable by creating less or no harmful effects on the planet.