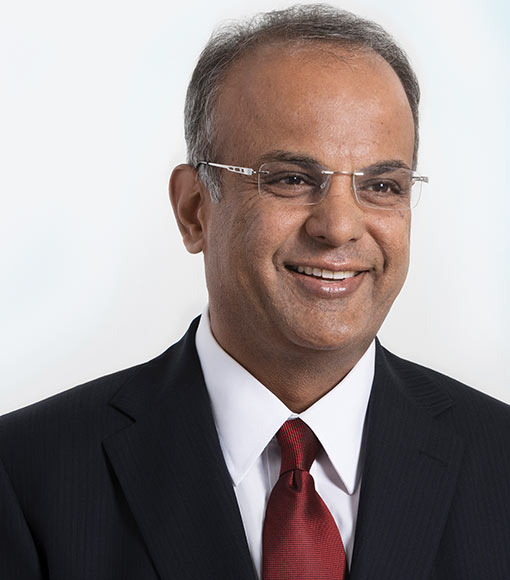 From the CEO's Desk
Rajiv Sharma
Group Chief Executive
For over 250 years, Coats has worked closely with its suppliers and customers making the threads and materials that literally hold together the fabric of our lives. This longevity has been no accident, as we have continually changed, adapted and responded to the needs of our customers and societal changes. And it is vital for the future success of our business that we continue to respond in a robust and positive way to new challenges.
The world is changing. The effects of climate change and environmental damage to our planet are becoming more apparent; the resources we use are becoming scarcer; and we need to find new ways to operate more efficiently and reduce our waste. We need to embrace diversity and difference, using this as a way to innovate and create better products and services for our customers around the world.
I want Coats to be a part of the solution, working with all our partners, to create new products and ways of working that protect the environment and the fragile world we share. I want us to be recognised by society as a business with high standards and levels of respect, made up of talented and motivated people supporting hundreds of local communities of which we are a part. I want our investors to know that we are managing our risks well and seizing opportunities to be better and to innovate. We aspire to be pioneers and leaders in sustainability within our industry. We are placing sustainability at the heart of our business strategy – this will be the basis on which we prioritise, innovate and grow.
About
Company Background
It provides complementary and value-added products, services and software solutions to the apparel and footwear industries. It applies innovative techniques to develop high technology performance materials threads, yarns and fabrics in areas such as automotive, composites, fibre optics and oil & gas. The company works with nearly 30,000 apparel and footwear manufacturers and 4,000 retailers and brands globally, as well as with over 7,000 performance material customers. Headquartered in the UK, Coats is an FTSE 250 company, a constituent of the FTSE4Good UK Index and a participant in the UN Global Compact.
Each year Coats makes enough thread to go into 8 billion pairs of jeans—that is one for every person on the planet;
Every month, Coats produces enough thread to stretch all the way to the Sun;
More than 450 million pairs of shoes are made every year using Coats' thread;
More than 100 million car airbags are made using Coats' performance materials threads every year;
In 1879, Thomas Edison used Coats' thread in his experiments to invent the light bulb;
Coats' flame-retardant performance materials threads can withstand temperature as high as 1,000 degrees Celsius;
Coats Epic EcoVerde is the world's first 100% recycled premium sewing thread.
The company's vision is to be the world's leading industrial textiles company delivering innovation, digital solutions and sustainable value to all stakeholders.
Our customers are looking for unique products, services and digital solutions to support their objectives.
Our shareholders require a strategic balance of growth and efficiency, to deliver sustainable, high quality earnings.
For our employees, we must provide an environment that offers them growth to reach their maximum potential within a safe, respectful and inclusive workplace.
Our Policy
Sustainability Policy
For many years, Coats has had a robust approach to sustainability, underpinned by a long-standing commitment to high standards of corporate behaviour. Limiting impact on the environment is a fundamental part of its business. Coats' ambitious new strategy 'Pioneering a sustainable future', launched during 2018, focuses on five priority areas where "we can accelerate progress, through the targeted investment of capital and resources. Through these five areas, we demonstrate our support for the UN Sustainability Development Goals."s
Priority Areas
Water: This is a precious resource. In some parts of the world as water scarcity becomes more apparent, then so do the risks we potentially face—not least competition for resources, higher costs, the effect on water quality, and the possibility that water shortages will limit production. These risks are often shared with the community around us.
Energy: The effects of climate change could have far reaching consequences and risks for our business, whether this relates to disruption to our supply chain, availability of raw materials or increased costs of energy. It is in our interests to reduce our greenhouse gas emissions and to play a part in combating climate change.
Effluent and emissions: While we seek to optimise our processes, we will always generate some wastewater and some of this will be discharged to the environment. We have strict internal and external standards to which we adhere to protect our local environment and avoid damage to the watersheds on which ultimately both our business and the neighbouring communities depend.
Social: We are a global business that operates in over 50 countries on six continents, with a wide and diverse range of cultures. We seek to create a culture of inclusiveness, honesty, and positive teamwork where each employee can reach their potential in a safe working environment. High ethical standards underpin the way we do business, as we build trust and ensure fair practices with our suppliers and customers.
Living sustainably: Natural resources are becoming increasingly scarce. Environmental factors and population growth are increasing demand and putting pressure on the ecosystems of which we are a part. We follow the principles of the waste hierarchy to reduce, reuse and recycle our waste in an efficient and, ultimately, value creating way. This requires us to use resources, efficiently and limit the disposal of waste to landfill. Corporate responsibility and sustainability are core to the way the company does business. Coats is pioneering a sustainable future by finding new and innovative ways to create long-term, sustainable growth. "We are transforming our business, investing in new techniques and technologies, and continuously improving our policies, processes and programmes in order to create a lasting positive impact. Through collaboration, partnership and the sharing of knowledge and goals, we can transform our industry and bring about positive, long-lasting change that supports businesses, people, and our planet."
Intiatives
Sustainability Initiatives
Ambas: Coats continually looks for ways to develop its manufacturing sites to make them more sustainable. "As our largest, most advanced and most sustainable site, our Ambas facility located in the Indian countryside, is one of our most notable success stories." Major investment has resulted in significant contributions made towards each of our five priority areas for sustainability. The site now has a new synthetic dye house, a biomass-based steam boiler and an onsite solar power plant, in addition to a reverse osmosis effluent treatment plant that has the ability to recycle 95 per cent of the water it uses during the manufacturing process, with zero discharge of effluent to the environment. Nearly 90 per cent of the energy used on site is from renewable sources, of which 3.5MW is from the onsite solar installations. A wide range of community and education projects are held across this site to benefit and upskill employees, and Ambas is also recognised as a single use plastic free zone where plastic dye centres are recycled to be used in finished goods.
Zero Discharge of Hazardous Chemicals: Aiming to ensure that the water it discharges is safe and will not damage the environment around our factories is of great importance to Coats. Over the past five years, Coats has committed investment towards new effluent treatment plants and technologies across several of its sites, including Honduras, Vietnam and India. In 2016, Coats signed up to the Zero Discharge of Hazardous Chemicals (ZDHC) Programme. Through the ongoing commitment, "we will be working with the industry to eliminate hazardous chemicals from both our own operations and the rest of the supply chain."
Cradle to Cradle Certified™ GOLD denim jeans: Coats recognises that its threads are only a small part of the customer's products. But because of our close relationship and technical expertise we often work with them to help achieve their own ambitious sustainability goals." In 2018 Fashion For Good published the story behind creating the first Cradle to Cradle Certified™ GOLD denim jeans for C&A. Coats worked alongside a number of other suppliers as a contributor towards this project, providing C2C Certified™ sewing threads to be incorporated into the denim jeans.
"The customer need was to develop the highest level of C2C Certified™ sewing thread so we worked together to identify and develop the best solution. Customer collaboration like this is innovation at its best: working together on site to combine our thread expertise directly with the customer's practical manufacturing requirements to create and test a new product that exactly meets the customer's needs." — Adrian Elliott, President, Apparel and Footwear, Coats
Juchitán Oaxaca State: Coats extends its social commitments beyond creating safe and sustainable places to work. "We pride ourselves on being a part of the surrounding communities, ensuring their health and well-being." The women of Juchitán Oaxaca State, Mexico, are internationally recognised for their embroidery of traditional costumes. After an earthquake of 8.2 magnitude on the Richter Scale led to severe material and human loss, Coats donated colourful threads and looms to the women of the most affected area, to help them continue to embroider beautiful costumes. Actions carried out by Coats provided the help needed to enable the women of Juchitán to rebuild their community and local economy.