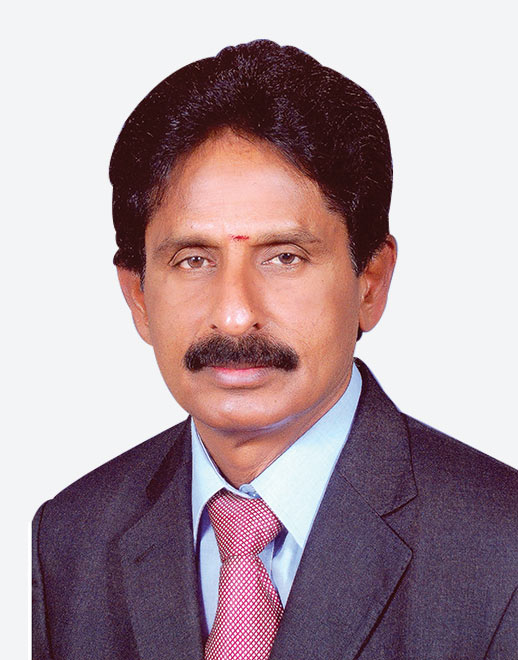 From the Chairman's Desk
N.Chandran
Chairman
It is our inherent commitment to do business which lays a very high importance on environment. We have come a long way facing stiff competition and complex problems to manufacture our goods in an environmental friendly manner. On many occasions, we have competed for business with organisations who leave a negative footprint on the environment.
We have a very clear vision for the future of this industry and the path on which the industry is moving ahead. With this vision in mind ,we invest whole heartedly on people and embrace green technology to ensure a positive impact on the environment.
We are confident that with our single minded focus and passion to work towards a cleaner environment by incorporating the correct technology we will be able to provide a strong leadership to the industry.
Towards this goal , one such technology being used in our organisation is the benchmark zero liquid discharge system. With the use of this system we are recycling water in our facilities for over a decade.
Sustainability is the core strategy which we follow to look beyond today into the future. Our strong strategy of sustainability development and benchmark leadership practices have given us an identity of a unique manufacturer amongst all other manufacturers.
We sincerely hope that more brands and retailers who are looking for a strong and sustainable partner in the supply chain will join hands with us more firmly than ever before.
Background
Company Background

This journey is a testimony to the clarity of vision and the energy that propels the company. The various departments of the company are coordinated in a way that optimum efficiency is obtained. Eastman Exports is a leading apparel manufacturer in India, at the forefront of design, innovation and full-scale production specializing in producing knitwear, high-end apparel and accessories of the highest quality for high-end global fashion brands and boutiques across the globe. An excellent product development system managed by a creative team of professional vouches for that.
Eastman has a very talented design team capable of providing design inputs by constantly monitoring worldwide requirements. It caters to brands and retailers across the globe. Eastman Exports produces quality garments that guarantee customer satisfaction. The company has a spinning unit with 50,000 spindles and a dye house with a capacity of 70 tonnes of fabric per day. Eastman has the capacity to ship 10–12 million pieces per month, a factor that has seen it become one of the largest apparel exporters to emerge out of India. The company has a very good team of professionals who create the right and highquality product that a customer requires and delivers it at the right time, supported by a good communication and technological system.
Eastman Exports is perfectly positioned to stay on top of the latest trends in the everchanging world of fashion, with a commitment to provide exceptional products which meet the high expectations of customers. Eastman's commitment takes precedence over everything else. "We believe our success is the result of our commitment to continuously improve the manufacturing process, efficiency, reduce the environment impact by following sustainable practices and investing in people. All our products comply with chemical regulations including EU REACH, CPSIA, GB etc. The ability to constantly monitor market trends and innovate has been another area of strength for the group which has its strong R&D focus. It has a state-ofthe- art design studio equipped with features such as 'Virtual Fit Simulation', Optitex, CLO which is 3-dimensional fit simulation software for virtual fitting and draping of garments created using CAD pattern. Similarly, the company has an in-house dedicated design team to do research on print graphics, embroidery and printing techniques. The company has been conferred certificates, including Oeko Tex, OE-100,GOTS, ISO, RAP and SA 8000 for quality management, environmental management and social accountability management. We believe endless possibilities for incorporating sustainability practices in cost driven apparel manufacturing which drives us to stand unique and add value to the products manufactured by us."
Policy
Overall Sustainability Policy
Very broadly:
Focusing on finding the most sustainable raw materials, reducing, reusing the natural resources in all form.
Reducing environmental impact in all key aspects, including designing the processes which facilitate the circular business.
Advancing policies/strategies with global collaborations which makes Eastman as forefront manufacturer in terms of sustainability.
The micro-level strategies include improvement of usage of green energy resources including solar, wind resources; reduction of water footprint by reusing and recycling wastewater; optimization of processed and efficiency measurement to reduce energy losses; new technology/machine selections with energy efficiency at core of purchase policy; recycle as much waste material as possible; make clients and suppliers aware of the Sustainability Policy and encourage them to adopt sound sustainable anagement practices.
"We strive to keep our own impact on the environment to a minimum by conducting environment-friendly, professional and safe operations. This includes conserving scarce resources such as raw materials, energy and water as well as avoiding and reducing CO2 emissions and waste. Our fair, ethical and environment-friendly approach incorporates everything from the management of our company, the manufacturing of our products to the procurement of resources and even our investments in buildings and facilities. Constantly tracking our efforts enhances our environmental protection and energy management programmes while making our methods and processes safer and more efficient.
INITIATIVES
SUSTAINABILITY INITIATIVES
For over a decade, Eastman has invested in wastewater treatment, recycle and reuse technologies. At present, Eastman recycles around 4 million litres of wastewater every day and only 10 per cent of freshwater is withdrawn from natural resources. Apart from this, the salt used in the production process is regenerated and reused effectively by adopting the most sophisticated technologies.
Eastman has joined the Science Based Targets (SBT) initiative and committed to be carbon neutral by 2040. It has also initiated many processes including replacement of non-sustainable energy sources by renewable energy sources, improving the efficiency of every process replacement with new technologies. This is apart from being involved in decarbonisation by planting and maintaining trees.
Eastman has incorporated many sustainability impact measurements, benchmarking and scoring tools including Higg Index and BEPI. Eastman is also a member of the Sustainable Apparel Coalition (SAC) and involved in the process of developing the environment measurement tools being created by SAC including the Higg Index and Material Sustainability Index (MSI). Eastman is contributor to the ZDHC and is involved in initiatives of the ZDHC towards chemical management in the textiles Industry.