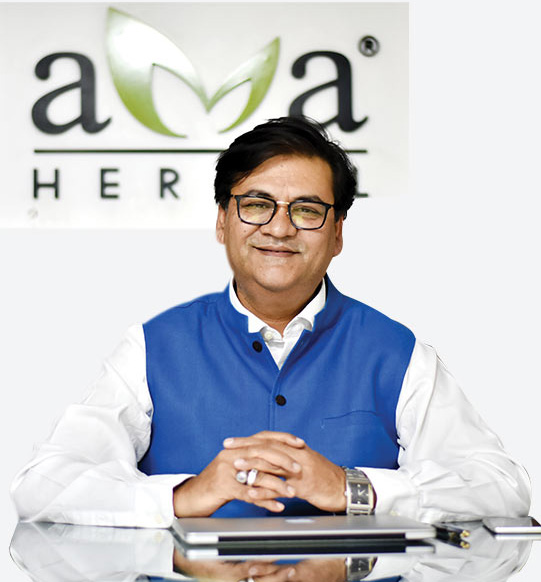 From the Co-Founder and CEO's Desk
Yawer Ali Shah
Co-Founder and Chief Executive Officer
Sustainability is the key factor in the success of AMA. We have always considered the economy, environment, and social aspects in all our product designing and strategic design making process.
We value our supply chain and support them in making their process more sustainable. Sustainability by Circular Economy is the next big thing focused. Our 'Best out of the Waste' practice is derived from this thought.
We at AMA started focusing on sustainability in 1996 when most of the people were just focusing on their respective business growth. Today we are living sustainability, and striving to make textile fully sustainable: we choose our method as natural dyes.
About
Company Background
In the year 1996, AMA Herbal launched its very first product—extract form of natural dyes. AMA is now the leading manufacturer and exporter of the extract form of natural dyes for the textile industry, besides promoting natural dyeing. The company relies on extracting natural resources for making the products. Along with that, "we also focus on generating rural employment with our practice. We are not just focusing on maintaining sustainability but to provide wages to the deprived in rural areas, which is as important as maintaining the ecological balance." The company's R&D work has been recognised by the Department of Scientific and Industrial Research (DSIR) under the Ministry of Science & Technology. AMA exports its products to 32 countries.
The company has the following divisions:
Natural Textile Dyes: Natural Extract Dyes are the very first product range of AMA. These dyes can be applied to cotton, wool, hemp, leather, bamboo and silk for customised colour effects. There are 10 natural dyes and 3 ready-to-use pigments. Bio-Indigo® is the main research product in this segment and the denim industry is its biggest buyer.
Vegetal® Bio Actives (Derma Division): AMA has developed the world's first pPD-free hair colour named Vegetal® Bio Color. Vegetal® Bio Color comes in 12 different shades. The company is now a valuable supplier to Henkel, the 2nd largest hair-dye manufacturer of the world.
Herbal Gulal: AMA has made the best use of the leftover of natural dyes by utilising it to make Herbal Gulal and comes in 10 amazing colours.
E-commerce: It has a pan-India network for making the products available in the B2C market and operates through the websites www.amaherbal.com and www.vegetalindia.com
An e-marketplace named 'WeBuyNatural.com' where people can choose from a wide range of natural products.
The company has also obtained several prestigious recognitions and quality standards certificates. Some of them are: ISO: 9001-2008 ; DSIR: Ministry of Science & Technology Government of India; Dubai Municipal Corporation Certificate; GOTS Version V Certified Products from Control Union; REACH: European Union; HALAL; ZDHC; Eco-Cert Cosmos Organic & Eco-Cert Cosmos Natural.
Our Policy
Sustainability Policy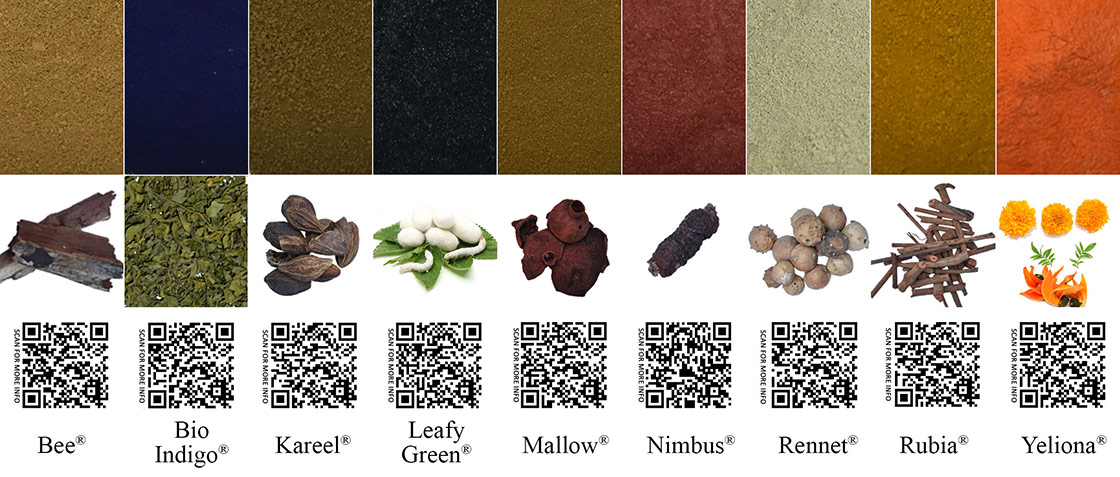 "We strive to enable the world to realise and be benefitted with the full strength of natural products for a better life, better future, and healthy living today, tomorrow and forever."
"We focus on areas of large concern for health, environment, and sustainability"
The company's sustainability policy manoeuvres around considerations like socio-economic development, natural resource dependence, resource availability and poverty alleviation. The policy defines the sustainability framework at AMA Herbal that delivers the ideal platform for sustainability workstreams in establishing lifelong value for the environment, business and society. AMA's vision is to become the industry leader in applying sustainable business practices that will help maximise advantages. AMA understands the effects of its business on the three pillars of sustainability—environment, society and economy. Therefore, it makes constant efforts to optimise proficiency across the social, environmental and economic platforms.
The company's work culture and values are ingrained in sustainable practices:
Working together with the aim of sustainable development: At AMA we believe in building relationships and strengthening values. Our main focus is on long-term associations, not short-term outcomes. We work as a family for the growth of the organisation. At the same time, the organisation takes care of the growth and development every individual.
Let individuals flourish by allowing them to explore their innovative side: Every individual has the freedom to explore, work and operate—which has led to their feeling of being empowered. It has also fostered the spirit of experimentation and innovation at all levels. The practice of mentoring also encourages individuals to take on leadership challenges and prepares them for future roles.
Focus on strengthening the foundation for sustainability: Our focus is on protecting our natural wealth. Our work revolves around creating a safe and sustainable future. We believe innovations in products and processes are the most suitable way of making our contribution towards maintaining an ecological balance.
Helping the deprived to strengthen all the pillars of sustainability: We work towards providing medical facilities, education support, and employment to the deprived ones as a part of our Corporate Social Responsibility
Establishing sustainable relations with our sustainable products: We believe in giving customers the best products, best services and much more than what they expect from us.
Our ethics are our chariot to sustainable development: AMA always follows sound business ethics. We deliver what we commit to, and this is our success mantra.
To bring the change… be the change
In 2014, AMA Herbal Laboratories Pvt. Ltd. Established IAR Charitable Foundation with a vision to provide medical and educational assistance to deprived ones.
Since emergence, more than 10,000 patients have been benefitted from Free OPD every year. In some severe medical conditions, patients are referred to specialists where they get full treatment under supervision and support of our organisation. IAR Foundation provides financial support for medical treatment to families whose annual income is less than ₹70,000. IAR takes charge of sponsoring the education of deprived students by providing them scholarships. More than 150 students get benefitted from the IAR Scholarship every year.
Our purpose is to build the foundation for social and economic sustainability as well.
Natural Dyes... Inspiring a Sustainable Shift
Sustainable, disruptive and proactive innovation is now crucial to both the development of the textiles industry as well as overcoming environmental concerns.
AMA has made natural dyes industrially effective and the industry can utilise the sustainable dyeing option with the least effort and investment. Natural dyes have the upper hand when compared with the prevailing products serving a similar purpose. Such comparison pertains to manufacturing, usage, reuse, operation and disposal. AMA understands that reduction in carbon footprint, CO2 emissions, wastewater and energy consumption are essential. Therefore, AMA extracts natural dyes that can be effective for the purpose.
Significance of our natural dyes can be understood by an example if you make a comparison between denim dyed with synthetic indigo and natural indigo, then the denim dyed with natural indigo will provide 11 per cent better results on carbon footprint. It's the result that can't be ignored if we are apparent about sustainability. So, there should be a preference shift from the prevailing dyeing option to the natural dyeing options.
"Whatever products you make, whatever desires you have for the betterment of your company, the chances to contribute your bit for a better future are endless. A new mandate for manufacturing is persistent innovation for creating a more sustainable world for the current and upcoming generations."
Intiatives
Sustainability Initiatives
"We took the project of natural dyes with a thought of contributing towards making textiles fully sustainable. So, whatever development we have done in the industrialisation of natural dyes is our contribution towards sustainability."
It was not possible to industrialise natural dyes earlier, but AMA was able to reduce the process from 3–4 days to 6–7 hours. Though there were enormous challenges—no auxiliaries were available, and nor were there methods, technologies or availability of references. Yet, the odds were conquered by the dedicated efforts and innovation of the R&D team. All these developments contributed to achieving the full sustainability of textile by using natural dyes. A snapshot:
AMA replaced natural mordants with a modified special range of auxiliaries specially designed to dye with natural dyes (Patent pending).
The R&D team has developed a room temperature dyeing process that requires no heating. Besides effective dyeing, it also saves a lot of energy (Patent pending).
With the innovative processes, AMA has been able to dye on soft-flows, winches, etc. Rope Dyeing with Bio Indigo® is well established.
AMA has also developed a process of dyeing with natural dyes (other than Bio Indigo®) on rope as well (Patent pending).
The company has been working on water-less dyeing through coating and printing. In the process, it has developed natural pigments for ready-to-use in these processes.
In case of natural dyes, the sustainability component is inbuilt because every raw material picked is 'best out of the waste', meaning it was considered natural waste and had no other usage. AMA has been able to utilise these for extracting natural dyes.
Similarly, AMA has been cultivating indigo which itself is a sustainable process. The production of 1kg of natural indigo reduces carbon footprint by 680 gm whereas making of an identical quantity pf synthetic indigo increases carbon footprint by more than 10 kg. Besides, a farmer gets paid for cultivating indigo leaves, or for collecting any other raw material required to extract natural dyes.
The company has come up with an initiative wherein an indigo sapling is planted on the purchase of every denim dyed with indigo. Till now millions of indigo plants have been cultivated.
Over All
Circularity View Point

In 22 years of existence, we have seen people considering sustainability as a business opportunity and using it to extract business on USP of sustainability. Whereas we feel and we believe that sustainability is our responsibility; and profit, and business are by-product of it.
There are six mantras that AMA follows, adopts and implements. A glimpse:
While designing a textile, when we consider the look, feel, acceptability and profitability, sustainability of that textile too must be considered;
In sustainability, processes and products used must be focused. An LCA-based approach will be best for calculating environmental impact of the product;
Social and economic aspects must also be considered;
Fast fashion should be transformed into responsible fashion;
More researches on reuse of fibres should be initiated.
Landfills of garments must be brought back to be reused, upcycled or converted into new fibres..
Initiatives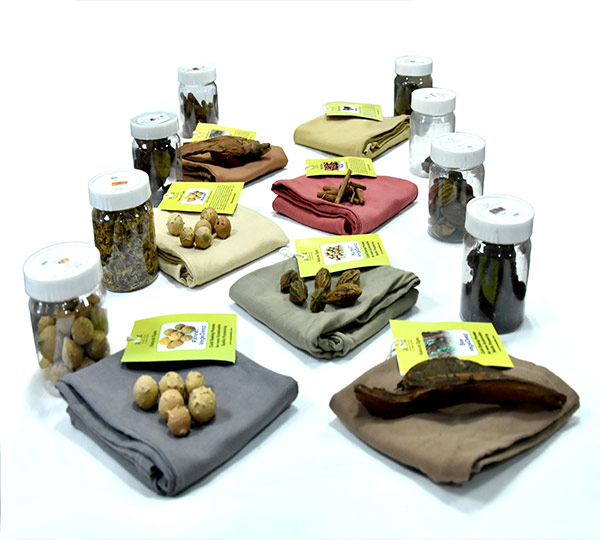 Circularity Initiatives
AMA's 'Best out of the waste' practice… flourishing the sustainable foundation
If you utilise the waste smartly, it can serve you with the best of outcomes. Our 'Best out of the waste' practice relies on a similar concept where we utilise natural waste as raw material for extracting natural dyes. This initiative is proving quite impactful from circularity's point of view. We are committed to bringing the inspired change with our practices and innovations. It is marigold flowers or secretes of silkworms cultivated on mulberry tree, pomegranate peel or cutch (waste left after obtaining katha), we utilise all these natural wastes for making natural dyes.
Why circularity has become a significant part?
It is not just about the progress but meaningful progress with an aim for the betterment of global sustainability. The advantages of circularity are gradually becoming evident. Circularity can help transform the business model for making it more sustainable and effective as per the current requirements.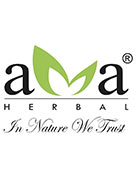 Our Location
352/116-G Talkatora Road P.O Rajajipuram,
Lucknow-226017
India